List of best five AI smartwatches to buy for the fitness freaks
Smart devices have been around for quite a while. Over the past 4 to 5 years, AI smartwatches have gained popularity. Companies like Samsung, Fitbit, Apple are competing against each other in providing smartwatches in the market. Continuously they are bringing updates in the smartwatch to compete in the market.
The AI smartwatches that are available in today's market have the best performance, design, and also functionalities. AI enables these smartwatches to track and keep a record of personalized preferences and activities. It helps in maintaining our health and with daily fitness goals. This is the reason that caters to the importance of smartwatches among health-conscious people.
Features like heartbeat measuring and blood pressure monitoring are incorporated in the AI smartwatches that benefit the populations. It is said that Smartwatches are connecting the gap between patients and doctors by providing live health reports for timely treatment.
Let's witness some AI smartwatches with favourable specifications.
This smartwatch is for both Android users and iPhone users. It can be used to monitor health and daily activities. It also helps in checking breathing rates and blood pressure. It tracks and keeps a count of your burned calories, your sleep routine, and the total steps taken. This smartwatch can be connected to your phone through an App, 'Da Fit'. Further, you can make calls, take calls, set alarms, use a stopwatch, so this smartwatch will act just like your smart assistant.
This AI smartwatch comes with a 1.4-inch full touch screen LCD, with a soft-touch aluminium frame that is rounded off for smoothness. Its convex design provides a stylish fitness band on your wrist. Most importantly, the smartwatch is water-resistant so you can use it while swimming.
Specifications:
2.5 hours of battery charge time
7 days of battery usage time
IP7 waterproof
0.36 inches thickness of the metal frame
1.4 inches HD display screen
7 modes for exercise record
3 default interfaces. (Many more can be downloaded through its app)
It is an amalgamation of a fitness tracker and wireless Bluetooth. The touch screen gives a smooth touch display of 0.96 inches and Bluetooth, assembled with the latest technology, provides an amazing featured experience through noise cancellation and deep and clear sound. This smartwatch also calculates numerous physical and health-related activities like walking time, sleep duration, calories intake, heartbeat rate, blood pressure, and inactive time.
It can also help you make calls, set alarms, etc. this one is also water-resistant therefore can be used while swimming.
Specifications:
The charging time of Bluetooth buds is 60 minutes
7 days of usage duration.
IP67 waterproof
0.96-inch screen display
The package includes an AI smart fitness band, 1 charging stand, and a manual.
This smartwatch is also a combination of a fitness tracker and Bluetooth with advanced AI technology. It is capable of tracking your activities like steps taken, miles covered, calories burned, etc. like the other two, it also monitors heart rate and sleep routine.
This AI smartwatch is another option in 2-in-1 fitness bands. The combination of Bluetooth and smartwatch are offered with advanced AI technology. The smartwatch is capable of tracking your activities including steps taken and miles covered. It also monitors heart rate and sleep routine. Smart features like call reminders, mobile tracking, alarm setting, etc are also incorporated in this AI smartwatch. It has a high-resolution display and powerful battery and is a good option for both Android and iPhone users.
Specifications:
The battery charging time is 2.5 hours.
Usage time is 7 days.
Bluetooth connectivity of 4.0 or higher.
0.96 TFT color screen of 160×80 resolution.
1 bracelet, 1 charging stand, 1 manual included.
View the BITUBITU smartwatch here.
It comes with a smooth design that gives a fashionable look to your wrist. The product comes with a wireless headset with a smartwatch. This AI smartwatch supports multi-language. It can be used to track daily fitness activities and health monitoring. It also directs you regarding sleep routines. Features like phone location, call reminders, audio, and video entertainment, tasks reminders, etc make this AI smartwatch more propitious.
Specifications:
The product comes with a 1-inch TFT screen display.
The screen resolution is 160×80.
The battery charge time is 1.5 hours.
The battery usage duration is 7 days with 3 hours of continuous talking.
Built-in Bluetooth 5.0.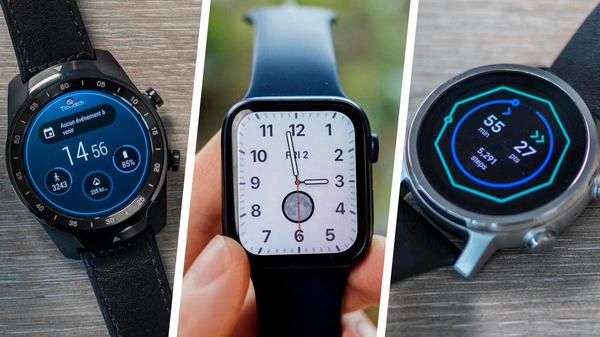 The wireless distance range is 5m to 10m.
Silicon wristband material.
The package includes 1 bracelet, 1 Bluetooth headset, 1 charging cable, and a manual.
View the product here.
This smartwatch comes with a GPS and compass. Its GPS lets you track your running route and the compass helps in locating yourself without the use of a smartphone. It has a smooth design with an adjustable rubber strap and a large dial. The smartwatch helps in keeping track of walking, running, and other movements like cycling, hiking, etc. through mileage and steps recording. Further, it records calories burnt and breathing rate. It can also be linked to the smartphone app where data remains for 1 year.
Specifications:
1.3-inch LCD screen display.
IP67 waterproof
Compatible with Android and iPhone smartphones
Designed for both men and women
View the unisex smartwatch here.
This AI smartwatch is powered by Google Wear OS. The smartwatch comes with a preloaded SIM option for Verizon phone users. You can easily make calls, send messages, get notifications, and check updates on e-mails and the internet.
Specifications:
The battery time is 2 to 5 days.
1.4-inch round display screen.
Built-in GPS
Waterproof
Play Store connectivity to download stuff
Preloaded SIM option
Apple watch series 5 comes with augmented features. The smartwatch has an in-built GPS and compass. Also, it is armed with electrical and optical heart sensors. The ECG app makes it more health-friendly. You can regularly monitor your heart rate.
The smartwatch comes with a fall detection feature.
759 sq mm or 977 sq mm display area
Equipped with a Second-generation optical heart sensor
Comes with 32 GB RAM
Up to 18 hours of battery life
50 meters of waterproof
Comes with a case, band, 1m Charging Cable, USB Power Adapter
The Fitbit Versa smartwatch comes with an in-built Alexa. This helps you to check news updates, get weather forecasts, and regulate other electronic appliances just using your voice.
The smartwatch records your physical activity, monitors heart rate, and keeps track of your calories burnt.
Specifications:
Battery life is 6 days.
Alexa built-in
Premium account maps out a fitness program for you based on your activities and custom work out every day.
Spotify control and Deezer playlists options are available with subscriptions.
This smartwatch helps you track health and fitness. You can do 24 hours of health monitoring through a heart rate monitor and without a smartphone. The smartwatch has in-built Google Wear OS and works with both Android and iPhone.
Specifications:
1.39-inch LCD
48.5 grams of weight
5 ATM waterproof
Integrated with Google assistant.
Compatible with both, Android and iPhone
Join Our Telegram Channel for More Insights.Join Now