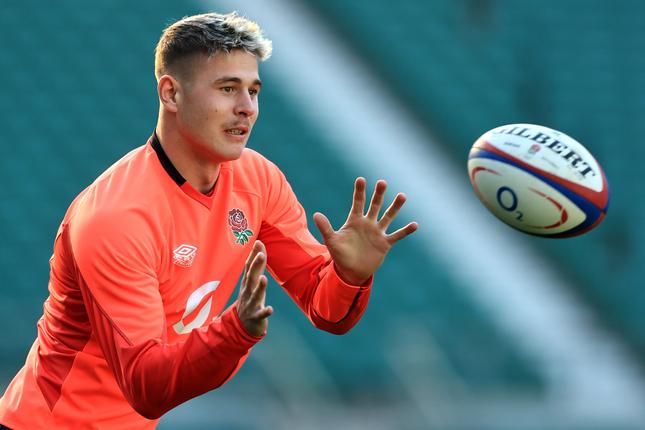 ngland have a new combination in the back three this weekend and everyone, myself included, is really excited to see how they go.
In Freddie Steward, who is just 20, Eddie Jones has probably one of the most assured full-backs we have seen come into the England environment in a long time.
He kind of reminds me of Matt Perry, whereby first and foremost under the high ball he's so comfortable. 99 times out of 100 he is secure under the high ball and, as a full-back, that's what you want.
Steward, even at this young age, has also shown that tactically he is very competent. He doesn't miss many tackles in defence but also in attack he has the understanding to know where to pop up.
Steward can link well with his wingers and that's going to be important against Tonga because in Adam Radwan you have maybe the quickest player in the Premiership. He is electric and has got the footwork to go with it.
If Steward is reminiscent of Perry, then Radwan actually reminds me of a young Jonny May. He has just burst onto the scene with this out-and-out raw pace.
Wales are lauding Louis Rees-Zammit, but Radwan is very similar. He's the kind of player you want to have the ball as much as possible because you expect that's he going to skin the first man to create something. That combination with him and May's experience looks a good balance and I'm looking forward to seeing how they go.
The tests for Radwan and Steward are going to get harder and harder, with England facing Australia and South Africa after Tonga, but they have the talent to show they are capable of handling themselves.
Right now, the shirts are theirs to lose and it is up to them to keep hold of them, not just over this Autumn Nations Series but all the way through to the World Cup in 2023 and beyond. That's what you want - competition.
This is Steward's third cap and Radwan's second and, while Tonga might be a Tier Two nation, they've got to deliver in front of a full Twickenham because there are guys champing at the bit to take the shirts off them.
England should expect Tonga to put in a performance full of heart, passion and commitment, and I expect them to be better now they have their Premiership and Top 14 experience back in the squad.
Tier Two nations are always at a disadvantage given their lack of exposure to Tier One sides and limited preparation time, but Tonga won't make any excuses. They'll push England and it's up to them to stay disciplined.
It might not be that enjoyable to the fans at Twickenham, but England might look to dominate and dictate with their set-piece early on to squeeze the life out of Tonga.