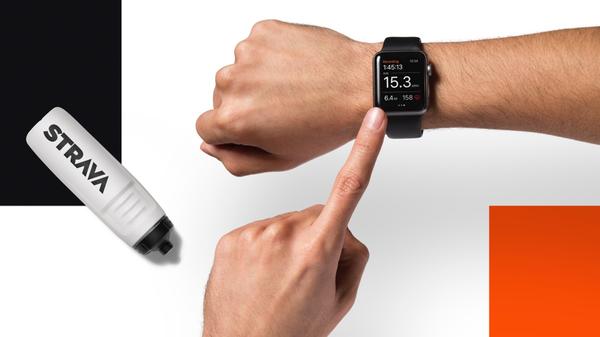 Strava is a great place to store your workout data, and the good news is that most big-name sports watches work with the service, enabling you to have your workout data appear in the service.
We love Strava – both for its use of things like Strava Segments, and the community aspect. You're likely to find more of your pals recording their workouts on Strava than other apps, and that can be much more motivating.
We're also big fans of the analysis. Strava really makes it easy to dive into looking at your performance levels, and in our experience, does a better job of showing improvement than many of its rivals. Though you will have to pay for the luxury for some of Strava's best features like creating routes or seeing matched runs and rides data.
Finding a Strava compatible running watch isn't too hard, so have a good think about your budget and needs. There's no need to spend big, which is why we've presented options for every budget and level below. However, if you are a Strava power user, buying a top end device will bag you things like Live Segments.
We've listed our favourite Strava compatible watch brands below, and picked out the ones with special features.
Update: we update this article regularly to reflect the latest and best watches from our testing. This was last updated in January 2022 to include new Amazfit and Coros watches.
Garmin
All of Garmin's current watches are built to play nicely with Strava, from budget watches like the Garmin Forerunner 35 all the way up to the likes of the Fenix 7 (pictured above) and the Forerunner 945.
You can connect Garmin and Strava from within Garmin Connect, so any activity you track on your watch can be synced automatically to Strava. That means you get full Strava Segments, KOM and records.
Strava does a lot of good analysis of your sessions based on heart rate – but there are data points it doesn't track such as vertical oscillation and running cadence which you'll find in the upper reaches of Garmin's range. So connecting Garmin Connect and Strava does give you the best of both worlds.
Garmin Connect isn't nearly as fun, informative and motivating as Strava, despite its recent facelift. Thankfully, you can link your account with the app for seamless syncing of runs, cycles and swims.
But some Garmins are more Strava-friendly than others. The following devices can detect when you land on favorited Strava Segments and display live progress.Live Segments will show you how far ahead/behind your PB you are for that specific stretch of road or trail.
That list just so happens to be the most expensive Garmin devices – so here's our pick of our favorite Garmin watches, all of which play nicely with Strava.
Garmin Forerunner 35: $134.99 | Amazon | Garmin
The cheapest way to get into the Garmin running watch world, the Forerunner 35 isn't a looker – but it does the job with a simple easy-to-read display.
Garmin Forerunner 55:$199.99 | Amazon
The Forerunner 55 is actually our favorite Garmin running watch. It's super slim and does the basic pace/distance/time, but also brings some smarter running features into play too. You can make use of new daily suggested workouts, rest up better with the improved recovery advisor and better strategise for races with Garmin's great PacePro feature. Unlike the Forerunner 45, you do have full access to Garmin Connect IQ.
Garmin Vivoactive 4: $349.99 |Amazon | Garmin
Garmin's sporty smartwatch is worth a look, if you're looking for a sports watch that doubles for everyday wear. It's adept at notifications but it's the huge breadth of sports modes that impresses, with golf joining running, cycling, swimming and more.
Garmin Fenix 7 $699Amazon | Garmin
The Fenix 7 series is Garmin's most impressive sports watch, and it also provides the best Strava experience too. There's so many sports tracked, full access to Garmin Connect IQ App Store and battery life running up to 50 hours of GPS tracking.
You get Strava Live Segments, and the on-watch VO2 Max analytics is second to none. Cheaper alternatives are the Fenix 5 and the Forerunner 945.
Fitbit
Fitbit and Strava play really nicely together and with the arrival of the Charge 5 and new Versa 3 and Sense smartwatches you can pair up devices that now include onboard GPS.
Once you link your accounts, the data transfer is two-way. That means while you can view any run or cycle recorded on a Fitbit in Strava, you will also get credit in Fitbit for any Strava workout, regardless of whether your Fitbit was there or not. It's not a full transfer of calories and steps, but Strava will count to your goal of 5 workout sessions for the week within the Fitbit app.
Fitbit is a great ecosystem for looking at 24/7 health – but it's not amazing for runners. This solves the problem and means you can take a cheap Fitbit like the Inspire HR for your sleep tracking, and use a different running device for running.
Read this: How to connect Fitbit and Strava
The three devices that play nicest with Strava are obviously the Fitbit Charge 5, Sense and Versa 3 – because they have GPS built in. There's also the Ionic, the company's true GPS running watch, though that has recently been removed and retired from Fitbit's own website. You can still pick it up from other retailers.
However, don't forget you can still track runs using Connected GPS (from your phone) on the likes of the Inspire 2, Inspire HR, Fitbit Luxe and Fitbit Versa 2 as well, and that data will go over to Strava too.
Fitbit Charge 5: $179.99: Amazon
Fitbit Sense: $329.99: Amazon
Fitbit Versa 3: $199.99: Amazon
Apple Watch Series 7/Series SE
It took some time, but we do have a standalone Strava app that's compatible with the Apple Watch and it continues to improve over time.
There's still limited customisation of the data faces, and you can't view workout history from the watch itself. But the Strava app is easy to read mid-run, and it's become a staple of our Apple Watch experience.
During our testing both on the bike and running, accuracy has matched up well to the both bike computers and running watches too, making it an essential download for Strava users.
If you're too much of a fan of the Apple Workout app for Strava, all is not lost. You can now have sessions recorded by the Workout app synced to Strava.
Follow our guide to connecting Apple Health from within the Strava app. However, be aware that syncing is manual, so you'll have to head to the Applications, Services and then Devices in the Health app every time. For that reason,we prefer using the third party Apple Watch app.
Apple Watch Series 7: $399 | Amazon
Apple Watch Series SE: $279 | Amazon
Apple Watch Series 3: $199 | Amazon
Polar (various)
Just like Garmin, Polar makes sure that watches like the Polar M200, the feature-packed M430 and even the ageing Polar V800 offers Strava integration. The Vantage V2 and Vantage M2 watches also integrate with the former getting the Live Segments treatment. You'll also find support on the Polar Grit X and the Polar Ignite 2.
Those who enjoy using the Polar Flow app can sync runs and cycle rides, as well as take advantage of features such as Strava Segments.
To pair the two services, just log into the Polar Flow web account, head to settings and opt to connect the Flow account with Strava. Log into your Strava account and verify the connection to have your workouts transferred when you sync your device as normal. Then you're good to get tracking.
You can get Live Strava segments on a couple of Polar bike computers (M460 and V650) but only one watch – the ageing V800. It's a little too dated for us to recommend.
Polar Grit X: $429.99 |Amazon
Polar Vantage V: $499.90 |Amazon
Polar Vantage M: $275.99 | Amazon
Samsung Galaxy Watch 4
While we could also include the Samsung Galaxy Watch 3 and the Active 2 here, the Watch 4 (and Watch 4 Classic) are Samsung's latest smartwatches that will get you the best Strava integration.
That's because it runs on brand new Wear OS 3, seeing it ditch Tizen to give you access to the Google Play Store. That includes access to a host of apps that have been rebuilt for Wear and that includes a new Strava app.
Crucially, Strava will look to leave behind support for Wear OS 2-running devices, so you're going to need something like the Galaxy Watch 4 to access it. Devices like the Fossil Gen 6 and the TicWatch Pro 3 will have the capability to run it once they've been upgraded.
From the app, you can record a run, ride, walk or hike and it even offers nordic ski and e-bike modes. If you subscribe to Strava you can access the Beacon safety feature. Strava will be looking to add indoor tracking in the future too.
The Watch 4 does of course offer built-in GPS to track activities like running and cycling, plus make use of sensors like a heart rate monitor and barometer. Like its predecessor, it also promises to track advanced running metrics without using an additional sensor.
Samsung's latest smartwatch does a solid job on the whole as a sports watch and it now has better support for one of the biggest apps to give it added appeal.
Samsung Galaxy Watch 4: From $249 Amazon
Suunto
Suunto's watches are falling better in line with Garmin and Polar's top end devices, led by the Suunto 9, the Suunto 9 Peak and its more affordable Suunto 3 and its Wear OS-packing Suunto 7.
When the Suunto watch and Strava are connected, you can track runs, rides and cross-training sessions with Segment support syncing the data to Strava.
The best way to get the two to play nice is to head into Suunto Movescount from the web application and choose the Connect with Strava option to get the ball rolling.
At the time of writing no Suunto watch supports Live Strava Segments if that's a feature you're interested in.
Suunto 9: $599 Amazon
Suunto Trainer Wrist HR: $279 | Amazon
Suunto Sport Wrist HR: $549 | Amazon
Coros Pace 2/Coros Vertix 2/Coros Apex
Coros might be one of the more lesser known brands on this list, but all of its watches offer the ability to fire data over to Strava. That includes the excellent Coros Pace 2 along with its Apex and Fenix-rivalling Vertix 2 watches are really strong picks for tracking your exercise.
Along with sending workout data includes runs and rides to the app, it's also added new Strava Routes syncing, letting you create routes on Strava and send them over to the Coros app, which you can then fire over to the watch, This only works with Apex and Vertix devices though as the Pace 2 doesn't have navigation features.
For the standard data syncing you need to connect the two services together in the same manner as Garmin, Suunto and Polar watches letting you view your run, ride and swim data in Strava.
You will of course need to sync workout data to the Coros app first, but it's one of the quickest at doing it based on experience. So you can be poring over that Strava data in no time.
Coros Pace 2: $199 |Amazon
Coros Apex Pro: $499 | Amazon
Coros Vertix 2: $699.99 | Amazon
Amazfit GTS3, GTS2 Mini and Bip U
If you really didn't want to spend big on a sports watch, Amazfit smartwatches have impressed us with their workout accuracy, health and fitness features and low prices.
The likes of the Amazfit Bip U Pro, the GTS 2 Mini (pictured above) or the sleeker looking trio of the Amazfit GTS 3, GTR 3, GTR 3 Pro, are well worth considering – and they can all be set to upload activities to Strava.
The Bip U Pro is almost uncomfortably cheap at ($179.99)using a more vibrant, square full AMOLED screen. The GTR 3 and GTR 3 Pro offers similar hardware albeit with a round display.
All are packed with GPS (and are accurate) and a bunch of sports modes including running, cycling and swimming. What's more, each possesses SpO2 blood oxygen, stress tracking, sleep monitoringmaking them adept at gauging your recovery.
They're health and fitness smartwatches that actually deliver, with good sleep tracking and a weekly rating of your activity and fitness using the PAI score. It's a single number derived from all your weekly health and fitness activity – and we have a lot of respect for that technology and are glad it's seen the light of day here.
The Zepp app is actually a great place to view workouts, but it can't compare to Strava for analysis, motivation and social interactions. Luckily, of all the budget smartwatch manufacturers that are churning out low-cost sporty smartwatches, the Zepp platform is the only one currently with Strava support.
Amazfit GTS3 $149.99 | Amazon
Amazfit GTS2 Mini $99.99Amazon
Amazfit GTR 2e $99.99 | Amazon
Amazfit Bip U Pro $69.99 | Amazon