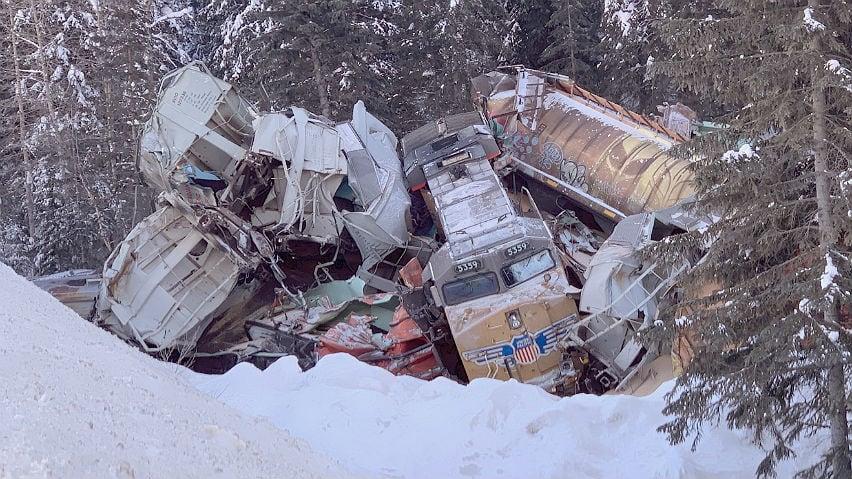 The line on which a train derailed near Field, B.C. was reopened on Saturday.
Around 10:10 a.m. MT Thursday, 15 cars derailed at the Upper Spiral Tunnel in Yoho Park.
"More specifically, it's Mile 130 of the CP Laggan [Subdivision] travelling at 14 miles per hour," said Transportation Safety Board spokesperson Alexandre Fournier of the location of the derailment on Thursday.
CP Rail said all repairs and safety inspections were completed on the line before it was reopened.
Story continues below advertisement
The TSB said the train was operated by CP Rail and was travelling west at the time.
Trending Stories
CP Rail said the derailment involved a "mixed manifest" train carrying a "variety of commodities."
On Thursday, the TSB had initially reported 27 cars were derailed, but CP Rail said Friday that 15 cars were involved.
It said no one was hurt in the incident, and there was no risk to public safety and the company was investigating the cause of the derailment.
B.C.'s Environmental Emergency Program said it was aware of the derailment but there were no initial indications any hazardous material had been spilled.
CP Rail confirmed to Global News on Friday that cars went off the tracks inside the Upper Spiral Tunnel.
The tunnel, built in 1909 to mitigate the grade between the Kicking Horse Pass and Field, spirals upward through a mountain for 991 metres. It is known as the main corridor between Calgary and Golden B.C. and it's estimated 25 trains pass through the area each day.
© 2019 Global News, a division of Corus Entertainment Inc.