There's a lot packed into iOS 15, and the field is getting even more crowded, as iOS 15.1 and the upcoming iOS 15.2 bring even more new and interesting things to the table.
One important feature you may have missed in the initial iOS 15.0 release could help offer you and your loved ones more peace of mind: You can now share the data from the Apple Health app with any of your friends and family members.
While this is a great way to keep track of what's happening with aging family members, there's much more to it than that. You can share your data selectively, which means you can offer up as much — or as little — as you want to disclose. Plus, it's not just for those with potentially serious medical conditions. The Health app also stores other useful data like fitness metrics, food and water intake, and more.
For example, you and your partner may choose to share health data with each other just to give you that extra bit of motivation to stay fit, lose weight, or watch what you eat. After all, you may not want to skip that workout or eat that extra donut if you know that somebody is looking over your virtual shoulder.
No matter what your reasons are, however, iOS 15 makes it effortless to set up and share your health data, deciding what your chosen health buddies should be able to see, and even what notifications they'll receive when it comes to things like alerts and trends.
How to Get Started with Health Sharing
To start sharing your health data, both you and the person you're sharing with must have an iPhone or iPod touch running iOS 15 or later. You also need to have two-factor authentication enabled on your iCloud account, and the person you plan to share your data with has to already be in your Contacts. This last requirement avoids the risk of accidentally sharing your sensitive health data with a stranger by mistyping a phone number or email address.
Sharing your health data begins with a quick trip into the Health app on your iPhone, where you'll see a new Sharing button down at the bottom, tucked in between Summary and Browse.
Note that there are well over 100 different metrics, or "topics," stored by Apple's Health app, so the full list can be quite daunting, so it's probably best to choose to go with suggested topics to get started, as you can still add more to the list manually later.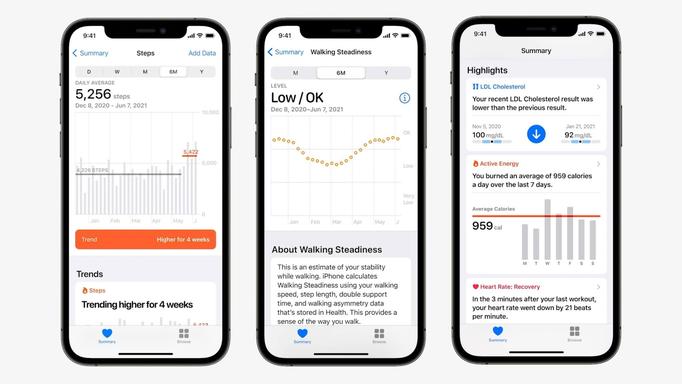 Suggested Topics will take you through a page-by-page view of metrics you may want to share, starting with any important health alerts you want to send to the other person, such as high heart rates, irregular heart rhythms, or even just headphone or noise levels.
From there, you'll be shown specific categories, one screen at a time, such as Activity and Mobility, Heart Health, Nutrition, and more. The exact list will vary depending on which categories include recent data. For example, Nutrition will only appear if you use third-party apps that log information such as calories, water intake, and macronutrients.
Following the individual categories, Apple Health will also offer "Other Useful Health Topics" to include things that don't fit anywhere else, such as headphone audio levels, mindful minutes, and sleep tracking.
Note that if you choose to set everything up manually instead, Apple Health will present all the topics on a single screen, grouped by category. However, it will filter out those that haven't been recently updated. You can tap "See All" on any category heading to get a list of all the topics in that area.
Once you've made your selections, you'll see a summary screen of everything that you've chosen to share, along with a Preview button to let you see what it will look like from the other person's iPhone.
You can also still make changes from here by tapping the "Edit" button. This will show you a list of only the topics you've chosen to share. You can switch any of these off if you'd rather not share that data. If there's something else you want to add, tap "Show All Topics" button at the bottom of each category to see the full list of what else you can switch on.
Once you're satisfied with your selections, tap the big blue Share button to proceed. The other person will get a notification from the Health app on their iPhone.
Opening the notification will show them a screen letting them know that you want to share health data with them, which they can accept or decline. They'll also be asked whether they want to receive notifications of any health alerts — even if you've chosen to share these alerts, they still have to opt-in separately to choose whether they want to see them.
How Much Health Data Is Shared?
The person you're sharing your health data with can access it by going into the Sharing section of the Health app on their iPhone, where they will see your name and photo with a brief summary of any alerts or recent changes.
Note that the Health Sharing feature doesn't provide the full details of each topic. Only a summary is shown. For example, they won't be able to see a full list of heart rate measurements or workout times, just an overview and chart showing recent trends.
This differs from health data that are shared by an Apple Watch configured with Family Setup, such as a device used by a child or elderly parent. In this case, that person will also show up in the Health app's Sharing tab, just like anyone else who is sharing health data with you, but you'll be able to see the full details of all metrics. This is because all the health data for these users is actually stored in the paired iPhone's Health app, as an Apple Watch Family Setup user doesn't have their own iPhone to record it.
How to Change What Health Data You're Sharing
Naturally, you can also change the data you're sharing or stop sharing your data entirely at any time. Here's how to do that:
When you stop sharing some or all of your health data, it doesn't merely stop updating. All existing data gets securely removed from the other person's Health app on their iPhone, meaning they'll no longer have access to any of the historical health data for any topics that you've chosen to switch off.