I personally find it helpful to know the fitness point of view any reviewer is bringing to the testing of a new device. Mine is that of a fitness-class junkie with a lapsed personal training certification (really need to top-up those NASM credits) who regularly lifts weights, practices yoga and walks a few days a week for basic, steady-state cardio. Most of my Covid-era workouts are guided by the personal-coaching-based Future app and tracked by an Apple watch. I do not regularly use a FitBit and have not used Amazon's earlier Halo iteration, the screenless-Halo. Overall, I found Halo View's premium features, made possible by its accompanying app, compelling for my own wellness journey, especially the sleep-data, but feel that the features all-together might be best-suited to someone at the beginning of a wellness journey.
Trying it out
Having grown used to the integration of my iPhone and Apple watch, I first tried to use the Halo View on one of my neighborhood walks. I booted up the new tracker, installed the app and did the basic profile creation and then laced up my sneakers. I imagined it would begin tracking automatically and log the distance walked as my Apple watch does, but on the walk itself I did not see anything happening on my screen. I tried selecting 'start workout' near the end of the walk, but could not figure out how to complete it and was a little frustrated at this not being automatic.
I realized that I had a two-fold personal error in the presumption of automatic outdoor-walk-tracking. First, while I thought the tracker was connected with the app, I had to restart the tracker and my phone's bluetooth a couple of times before I could get them to connect. I also realized afterward that the Halo View does not have GPS capabilities so while it should be able to track heart rate, it does not currently track distance.
Personalization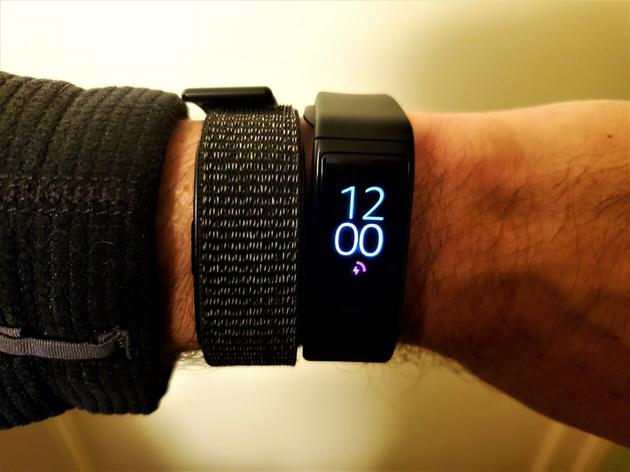 The personalized data within the Halo mobile app across sleep, movement and weekly activity points are based on personal data, so they of course feel very customized. But other features still have some room to grow in order to catch up to the same feeling of personalized. For instance, filters must be applied to both fitness classes and recipes each time you perform a search. Because some other areas are so personalized, I would like to be able to apply 'vegan' and 'intermediate' across recipes and fitness classes to make it so that all future recommendations do not contain animal products nor are a beginner class. That said, I really do like that much of Halo's owned fitness content is functional-fitness focused.
Sleeping with the Halo
One of my favorite data features of the Halo ecosystem is its ability to track sleep, which includes total time slept, broken down into light, deep and REM sleep cycles. Being an Apple watch user who most of the time is charging my watch at night, this felt new, different and valuable to me. Despite thoughtful approaches to my fitness, healthy eating and (on and off) meditation practice, I haven't seen my sleep activity broken down this way and found it helpful. The app suggested meditations to support healthy sleep hygiene and after three nights of wearing the Halo View to sleep began my sleep temperature.
MORE FROMFORBES ADVISORByAmy DaniseEditorByAmy DaniseEditor
The real differentiators
I know that the sleep tracking may just be new to me and not to those currently using the latest-gen Oura rings or FitBits, but the body fat data and Movement Health sections are to me the most interesting. For various fitness and body composition challenges, as well as a very niche travel story here and there, I've used calipers, measuring tapes and the clinical BodPod to measure body fat. These measurements have always been performed by a professional, without much accountability, and just felt weird. Being able to get this measurement at home and with my own phone felt like a big leap to me fitness tracker or wellness ecosystem capabilities. That said, because I'm not trying to lose or gain weight, I don't really have any action to take with this learning. The app, too, doesn't give me any information of what I can do with it. I am in the healthy range, so maybe once here there is no nudging, but I am keeping an eye on this space because I find it rich for new features.
The other major differentiator for me is the Movement Health section, which again offers a phone-enabled capability that in the past I've only been able to do with a PhD training specialist in a gym or clinical environment. Amazon says this computer-vision and machine-learning enabled capability is over 95% accurate. A mobility, stability and posture assessment is another element to the Halo ecosystem (note that this is all-app, the tracker is not a part of this) that I find to be a big step forward in digital-enabled, at-home fitness. As an endless optimizer, I like seeing the areas where I have room for improvement. As a Halo user with a pre-established fitness regimen, I really-really like that the app suggests a customized routine for improving the specific areas pointed out in the assessment.
Do I recommend it?
Yes. I am hooked by the innovative sleep-tracking, in particular, as well as the Movement Health recommendations and tracking. The recipes and fitness classes are not on the top of my list for what is most important to me, but do contain a breadth of content to suit the needs of most. And knowing that Halo Nutrition is launching in January and that Halo Fitness real-time metrics will launch soon after that is appealing. The overall ability to track holistic wellness, which feels unique to the Halo ecosystem, makes me feel like this might be the perfect tracker for my parents, one of whom is trying to get back on the fitness and wellness wagon after an injury and the other who is cardio-obsessed but doesn't pay attention to sleep or long-term 'movement health'. At $79, it is more affordable than nearly all other trackers with relatively comparable features, and the more personalized, premium features that are part of the Halo membership, which I find to be core to the experience, are included for the first year before becoming $3.99 per month.