You'd be forgiven if you haven't heard of Amazfit, but unlike the many, many super-cheap smartwatches you'll find for sale on Amazon and other sites, Amazfit is comparable with Fitbit.
The price should tell you as much, but if you're not in the market for an Apple Watch (because of the price or because you have an Android phone) then Amazfit's products should be on your radar.
As with Fitbit's Versa range, you get what you get with the GTS 3. Amazfit may talk about a rich ecosystem, but the reality is that you can't install your favourite apps like you can with Google Wear OS.
There are a few other key features you might consider conspicuously absent, too. The GTS 3 cannot do things such as make contactless payments or phone calls. It can't store music and stream it to Bluetooth headphones either, so although it will track your run using its built-in GPS, you'll still have to take your phone along for music.
However, if you're after a competitively priced smart-ish watch and are interested in tracking your activity, monitoring health and having basic smart functions, it could be just the ticket.
Features & Design
As with previous Amazfit GTS devices, they look just like Apple Watches at a glance. Some of the watch faces you can select bear more than a passing resemblance, too, so if you want to look as if you have an Apple Watch without spending so much money, the GTS 3 is pretty convincing.
Like its predecessors, the aluminium case is surprisingly slim and lightweight, as well as sturdy.
You may want to replace the cheap-feeling silicone strap which, like all silicone straps, tends to trap sweat, moisture and dirt and can cause adverse reactions to some skin types. I didn't have a problem on that front, but the tail end of the strap sticks out and gets caught on clothing and other things. And that's enough of a reason to ditch it in favour of an aftermarket 20mm strap.
Measured diagonally, the 1.75in OLED screen looks large, sharp and bright. Its curved edges add a touch of class and the cover glass is pretty tough: it's listed as 'tempered glass' in the specs rather than Gorilla Glass of the GTS 2, but only picked up couple of very light scratches during testing.
Outdoors, the screen remains readable even when it's bright thanks to a maximum brightness of 1000nits. Brightness is adjusted automatically and is done well: I never felt the need to override it using the slider in Settings.
Unlike the very similar - but circular - GTR 3, the GTS 3 has only one button. This works as you'd expect, turning the screen on when you first press it, then bringing up the menu, then returning to the home screen from the menu. You can also swipe right to go back.
The button is also a rotating crown, so you can turn it to scroll through menus, messages and adjust things like complications on the various watch faces. It vibrates when you turn it (a setting you can disable) which makes it feel very tactile.
Unlike the Apple Watch's haptics, though, there's no nuance to the vibration. It's fairly strong, and this tends to jolt you awake in the morning if you use the alarm function.
There's no alternative for the alarm: there's no speaker so you can't opt for some beeping instead.
On the rear is a pair of metallic contacts for the proprietary magnetic charging cable, and a set of optical sensors that can measure heart rate, SpO2 and other things.
It's worth noting that you can enable both the always-on screen and lift-to-wake features at the same time. It may sound unnecessary but it means you can have two different watch faces: one for telling the time at a glance, and another to show more data when you raise your arm.
You can also set it to turn on when a notification is received. More on those later.
Software
As we've said in previous Amazfit reviews, one of the drawbacks is the use of proprietary software. Zepp OS is quite a lot like the software you'll find on Huawei's Watch GT 2 in that you're stuck with the apps and features it comes with. Technically it does support third-party apps, but there aren't really any to speak of. What you'll find in the App Store is a list of 'apps' you'd probably expect to be standard features.
There are, however, a small number of potentially useful extras such as 'Brush teeth' and 'Pregnancy Assistant' but you won't find anything like Spotify. Third-party app developers could make their apps available but right now there's nothing from any of the big names.
The main menu has 'apps' for heart rate, blood oxygen, workouts, workout history, workout status, stress, activity, sleep, weather, music, alarm, calendar, settings andmore. In the Zepp app you can rearrange these, remove those you don't want and add others that aren't there by default.
Those include stopwatch, countdown timer, barometer, female cycle tracking, compass, to do list, camera remote and others.
Swiping down from the top displays shortcuts for do not disturb, theatre mode, find phone (this rings your phone to help you find it), torch, brightness, battery saver and others.
You can also swipe right from the watch face to get to a menu of shortcut cards which show you information at a glance from some of those functions. Alexa sits atop that list, but you can call her up by pressing and holding the button (a shortcut you can customise to do other things if you don't want to use Alexa. You could instead use the offline assistant, for example.)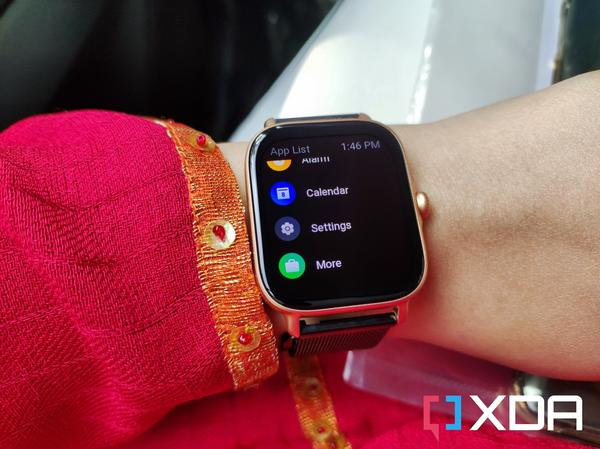 Alexa needs your phone and an internet connection, but the offline assistant –as you'd imagine – doesn't. This means you can say "open settings" or "start running workout". There are lots of commands you can use and, if you take the time to learn them, you can save a bit of time – speech recognition is actually pretty good.
If you want to use Alexa, be prepared for a longer delay than you might be used to from your home Echo speaker.
Amazfit boasts of support for 150 workouts, but only a handful can be automatically detected, such as running, cycling and walking. This didn't work in my testing for some reason, and I wasn't too impressed to find e-sports, chess and card games among the list of 'workouts', though there is 'motion sensing game' which could be useful for VR titles such as Beat Saber.
During a workout you can see stats such as duration, pace, distance, heart rate, VO2max. As the GTS 3 is water-resistant it can trackswimming workouts too (and monitor your heart rate while you swim). I didn't have any medical-grade devices to hand to see if heart rate and SpO2 were accurate, but they matched up to an Apple Watch 6, and that should be good enough for most people.
One useful menu item is one-tap measuring. This takes 45s but reports your heart rate, blood oxygen, stress and breaths per minute.
You can get notifications from apps once you've set them up in the Zepp app, but as with the aforementioned Huawei Watch GT, you can't do much with them: you can't reply to WhatsApp messages and you won't see any rich notifications from security cameras.
Initially it appears that you can't get notifications from any apps at all, but these appear in the list of 'App alerts' only once those apps show notifications on your phone after you install the Zepp app.
During my testing I had a number of issues with the GTS 3, including the fact that it was initially in some sort of developer mode displaying the current frame rate over the top of the interface. It was nice to see that the animated faces were running at a smooth 60 frames per second, but not that this information blocked the watch face behind it.
On another occasion, the watch completely froze for a few minutes and restarted itself during a workout. Not ideal.
Finally, some watch faces have complications that you can edit, like an Apple Watch. The choice is limited to a couple of functions, but the bigger problem was that interactive complications were almost impossible to interact with. Take the stopwatch, for example. Tapping the icon would – 90% of the time –do nothing. But on occasion it would register the tap and flip the icons to display start and lap buttons. But those were also mostly unresponsive.
I found similar problems when swiping right to return to a previous menu: most of the time this didn't work. At this price, that's not really acceptable.
Zepp app
In order to use a GTS 3, you'll need the Zepp app. Fitness data is front and centre here: it can almost be a challenge finding the watch settings.
There's plenty of data, too, which is ideal if you want to see how you slept last night and how your heart rate has fluctuated throughout the day.
You can also see current data, but it makes more sense to use the watch itself for SpO2 and stress levels. I never got an alert about being stressed, so this metric isn't perhaps that useful.
Right at the top is the app's own PAI metric: an overall assessment of how active you are. It's a 7-day rolling average, with a goal of 100 per week. You earn PAI points each time your heart rate is elevated, effectively rewarding strenuous exercise.
Quite a few of the available watch faces include PAI, so it's easy to keep track of your progress. It's a good system for the target buyer: the casual fitness enthusiast.
Of course, you can also see your daily steps, calories burned, flights climbed and more.
Battery life
Amazfit claims a typical runtime of 12 days, but that's really the power-saver mode and the maximum you'll ever see. When you start turning on features such as constant heart rate monitoring and the always on screen, that will turn into an average of 4-5 days.
And each time you go to enable a feature you'll be warned that it "severely reduces battery life". But 4-5 days is perfectly acceptable when the market leaders barely last a day.
On a side note, the poor English or, more accurately, poor translation from Chinese can get annoying at times. If you have inactivity alerts on and don't move for an hour, a message will tell you "No standing for this hour. Relax yourself. Walk around." And when you turn off the morning alarm it says "Alarm closed".
Price & availability
The Amazfit GTS 3 costs £149.99 / $179.99 from Amazon, and the same it you buy direct from Amazfit. If previous models are anything to go by, that will drop in sales events and generally over time: the GTS 2 Mini, for example, was available for just £79.99 at the time of writing.
Similarly, the GTS 2e cost £99 / $109.99, and the GTS 2, reviewed, just £89.99 from Argos in the UK. These prices make it hard to recommend spending considerably more on the GTS 3 which doesn't do a whole lot more than its siblings. In fact, the GTS 2 has a built-in speaker for Alexa and phone calls.
It's also going to be tempting to stretch your budget a little further and get a Wear OS watch or – for iPhone owners – a previous-generation Apple Watch. It won't have as many health features such as Sp02 measurements, but the software and ecosystem is in a completely different league.
All those models, including the GTS 3, come in various colours, not just boring black.
For alternative recommendations, see our roundup of the best smartwatches.
Verdict
When the GTS 2 had a built-in speaker, it feels too much like the GTS 3 is a step backwards. Yes, it has a slightly larger display, a rotating crown and automatic SpO2 tracking in the background. But the inability to take phone calls or hear Alexa's voice isn't a good tradeoff. It's also frustrating that, as before, only the Chinese models get NFC for contactless payments.
Zep OS has brought welcome battery life improvements, but while there is technically support for third-party apps, there's nothing of note in the store.
So, should you buy a GTS 3? At the RRP it's tough to recommend and the GTS 2 is arguably better value at current prices.
But if you'll take advantage of the more accurate sensors on the GTS 3, want continuous SpO2 monitoring, high and low heart rate alerts and the other upgrades, it could be a good buy if you find it on sale.