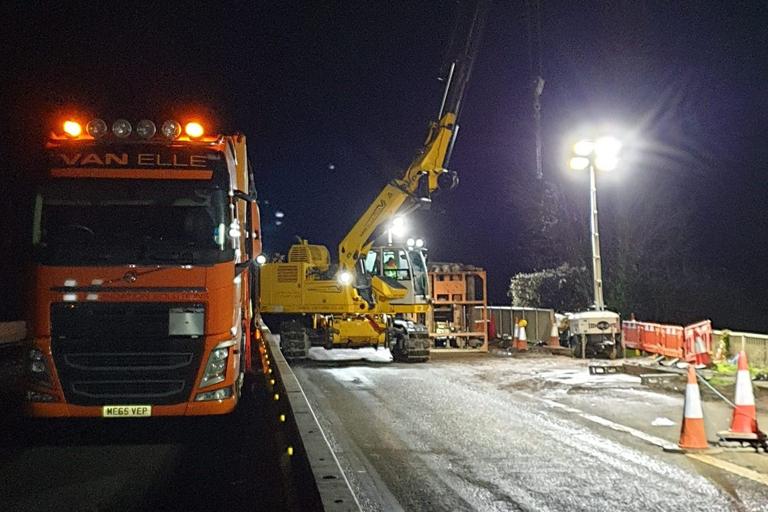 Ground engineering contractor Van Elle is wrapping up work on National Highways' M4 smart motorway project between junction 3 at Hayes and junction 12 at Theale.
Over the last three years, Van Elle has been delivering specialist piled foundations for the project on behalf of the Balfour Beatty Vinci joint venture. The final gantries have now been installed. The works began in September 2019.
Van Elle said in a recent release that the project was technically challenging. The contractor's highways team had to overcome tight, constrained working conditions which restricted labour, vehicle and plant access. It also adapted its construction techniques to deliver the project within specific customer requirements.
To install foundations to support the gantries, as well as other major and minor structures, Van Elle used a variety of specialist rigs and equipment. These included lorry mounted rigs like the Soilmec STM20 and a bespoke compact Hütte 207 piling rig, suitable for tight workspaces and for delivering sectional flight auger piles.
Van Elle also used its Llamada P140 and Soilmec SR75 rigs on the project to deliver continuous flight auger (CFA) and rotary bored piling.
In total, Van Elle installed 257 piles, ranging from 450mm to 1,050mm in diameter, to depths of between 12m and 27m.
Usually utilised on railway projects, the contractor's Colmar road rail vehicles were key in installing minor structure foundations, with the help of the adaptable Movax and TAD-30 soil drill attachments.
Concrete CFA and rotary bored piles were installed to support traffic signs, while circular hollow section tubes were used for the CCTV cameras foundations.
In addition, Van Elle used a Klemm 709 mast attachment on the Colmar vehicles to deliver CFA piling within the restricted working areas and to install the environmental barrier piles and casings.
Thermal integrity profiling (TIP) was then applied to measure the temperature of the concrete piles as they cured. Van Elle explained that TIP testing can identify pile integrity issues, including necking - areas that record colder than average temperatures - and bulges - areas that record warmer than average temperatures.
The £848M M4 junctions 3-12 smart motorway upgrade is expected to be completed this year.
Want to read more? Subscribe to GE's enewsletters and follow us on Twitter and LinkedIn