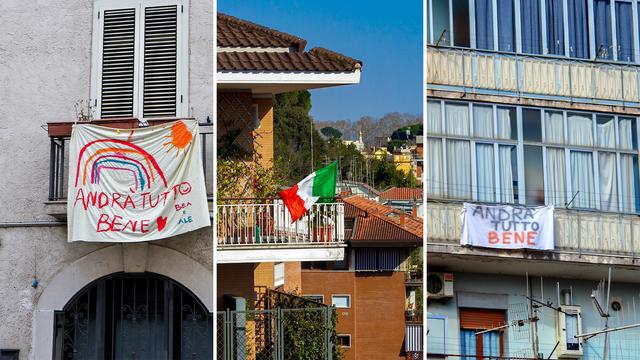 Editor's Note: This snapshot of life in Italy under COVID-19 lockdown comes from Nancy Raff, an American expat who has lived in Italy for nearly a decade, and who shares her experiences of life in a small Tuscan village on her website and weekly newsletter.
I love Italians. But I'm falling more head-over-heels each day of this coronavirus lockdown witnessing their magic—which is unfolding with a certain Italian flair.
There's pride in the air about doing this extraordinary thing for the common good. Marry that with an insatiable need to connect and some creativity, and touching things happen. Right now there's a 70 percent approval rating for what the Italian government is doing—and 70 percent of Italians agreeing on anything is a miracle.
Travel in the Time of COVID-19: What You Need to Know
I am particularly amazed given that almost everyone I know has a small business with no income stream right now, and none for the foreseeable future as everything is closed except for grocery stores and the pharmacy. This lockdown hits particularly hard because the Italian culture is the opposite of staying home alone: It's all about cheek kissing, loads of touching during even the most casual conversations, and crowding into coffee bars to exchange gossip.
Different countries handle lockdowns in their own way, with some novel ideas to burn off stress and connect. But I wanted to share a few things that have happened this week in Italy.
The Stay-at-Home Flash Mobs
My Italian friends are sharing videos from all over the country, and the streets are truly filled with music. Ideas come up on social media encouraging people to open their windows at coordinated times to sing. Songs have ranged from the national anthem to a popular 1970s pop song, to a locally popular ballad. This usually happens at six in the evening, and sometimes our village bells ring and ring in solidarity. I dare you to watch some of these short videos and not cry. Or this one, of people dancing in their homes, and not smile.
Tonight we turned on flashlights and waved them from our windows at 9 p.m. People were waving their lights back and forth and calling out "ciao!" across our small valley.
A Milanese friend says that everyone goes to their windows and applauds at noon in honor of the medical community and support staff who haven't left hospitals in weeks. People are also lighting candles and putting them in windows in appreciation.
"It Will Be Fine"
Kids all over the country are creating drawings of rainbows with the phrase "Andrà tutto bene," or "it will be fine," and placing them in windows. It warms the heart.
#iorestoacasa posters are the other signs you see around, both online and on houses: The pledge means "I stay at home."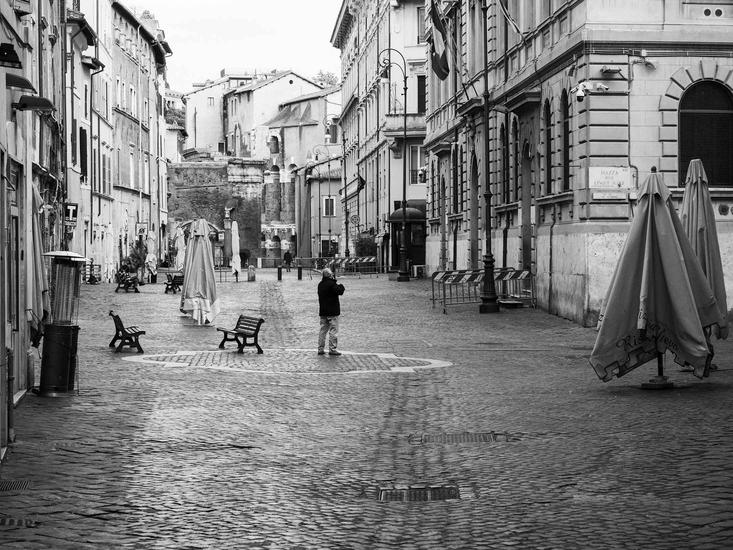 Life at the Grocery Store
The stores let one person in at a time, allowing time for them to put on plastic gloves that are provided by the entrance, and for the first customer to get well into the store before they let in the next person. The two times we've gone everything was fully stocked, EVEN TOILET PAPER. The staff wore masks, as did all but a very few customers. The checkout lines have demarcations on the floor for keeping a "distance of security" between people. Our experience shopping has been calm and orderly. It seems like people feel that the fundamentals—food, fuel, trash pickup—are under control and they don't need to hoard.
Life at the Pharmacy
Pharmacies are one of the best things about Italian life. It's the first line of defense for all matters of health, with smartly trained pharmacist/doctors to consult about minor health issues, to do small procedures, and to give prescription medicine if they deem appropriate.Only two people at a time can enter a pharmacy. The counter is cordoned off so all customers stand over a meter away from the pharmacist and register. The best thing is that they have contracted a local lab to make hand sanitizer—which is pretty impressive with there being only two in the area.
Online School, So Far
My friends' kids who are continuing school online seem to be enjoying it. My friend in Milan said her daughter gets up every morning and gets dressed for online school. Her athletics teacher is even holding remote yoga classes, requesting that students get on their mats in front of their camera.
Signs of Italian Pride are Growing
People are starting to hang Italian flags from balconies. And this display from the air force with the sound track of Pavarotti singing Nessun Dorma, "let no one sleep," is moving. And not in a chest-bounding, nationalistic way: Italians rarely think of themselves as a unified country except for during the World Cup, so this kind of display is extraordinary.
11 Funny Books to Read While You're Home
Italians Are Keeping a Sense of Humor
There are all sorts of different memes that I particularly love, playing on Italian women's devotion to salons, and hair removal in particular. The salons are, of course, all closed. The memes show what Italian women will look like when the lockdown lifts (which was originally said to be April 3, but clearly no one knows.)
We're All in This Together
I wanted to close with something circulating on Italian social media:
"This is an opportunity to turn an emergency into an opportunity of solidarity and unity. Let's change the way we see and think. I will no longer say 'I'm afraid of this contagion' or 'I don't care about this contagion,' but it is I who will sacrifice for you.
I worry about you.I keep a distance for you.I wash my hands for you.I give up that trip for you.I'm not going to the concert for you.I'm not going to the mall for you.
For you!
For you who are inside an ICU room.For you who are old and frail, but whose life has value as much as mine.For you who are struggling with cancer and can't fight this too.
Please, let's rise to this challenge!
Come together…nothing else matters."
I feel an overwhelming sense that we are alone in our homes, but all in this together. And I am proud to be a part of it.
Outfits to Keep You Productive While Working from Home
For info on these editor-selected items, click to visit the seller's site. Things you buy may earn us a commission.
More from SmarterTravel:
Don't Miss a Trip, Tip, or Deal!
Let us do the legwork! Sign up for our free newsletter now.
By proceeding, you agree to our Privacy Policy and Terms of Use.
Nancy Raff moved from California to a small village in Tuscany with her family eight years ago, and lives full-time in Italy running her creative agency and sharing Italian adventures, destination advice, and recipes at itch.world. Follow her on Instagram at @itch.world.
We hand-pick everything we recommend and select items through testing and reviews. Some products are sent to us free of charge with no incentive to offer a favorable review. We offer our unbiased opinions and do not accept compensation to review products. All items are in stock and prices are accurate at the time of publication. If you buy something through our links, we may earn a commission.