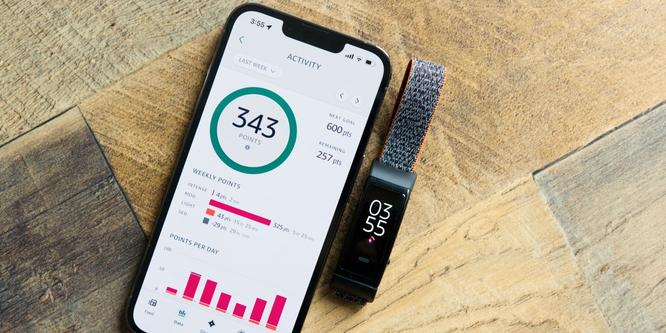 The $100 Halo Band and $80 Halo View are both solid fitness trackers with competitive prices. But are they good choices for iPhone users?
By Joe MaringPublishedShareTweetEmail
Amazon's Halo fitness trackers stand out for being capable wearables at affordable prices, but do they even work with the iPhone? When it comes to smartwatches and fitness trackers, device compatibility is a huge thing to consider. The Apple Watch is widely regarded as one of the best smartwatches on the market. However, it only works with iPhones. Samsung's Galaxy Watch 4 also brings a lot of exciting features to the table, but it exclusively supports Android phones.
Thankfully, this isn't the case for every wearable gadget on the market. All of Fitbit's watches and trackers support modern iPhones and Android phones just the same. This is also true of older Samsung Galaxy Watches, Amazfit devices, the Oura Ring, and more. The consumer tech market is certainly pushing more towards platform-exclusive hardware, but even so, options like these are still reasonably easy to find.
SCREENRANT VIDEO OF THE DAY
Related: Does Amazon Halo Have GPS? Read This Before Buying
This is something Amazon nailed with its Halo devices. The Amazon Halo Band and Amazon Halo View work with iPhones and Android phones. Regardless of which smartphone you have, all Halo features work the same. From all-day activity tracking, sleep tracking, heart rate monitoring, and more, all of these things function just like you'd expect when using Halo with an iPhone. The only requirement Amazon mentions is that the iPhone needs to have iOS 13 or later — something that any iPhone from the last few years should already have.
Amazon Halo Trackers & iPhones Work Great Together
When it comes time to set up an Amazon Halo tracker with an iPhone, the process couldn't be easier. On your iPhone, swipe down from the top right corner and make sure the Bluetooth icon is blue (indicating that it's turned on). Next, grab the Amazon Halo tracker, place it in the included charging clip, and plug the other end of the clip into a charging adapter. Once the white LED starts flashing on the Halo Band (or the Halo View's screen comes to life), the tracker is ready to start pairing. Open the App Store on the iPhone, download the Amazon Halo app, open it, and follow its instructions for setting up the Amazon Halo tracker.
In our testing of the Amazon Halo View with an iPhone 13 Pro, the Halo tracker consistently maintained a reliable connection with the iPhone. The pairing process was perfectly smooth, and once connected, the two remained synced with each other without a problem. This is something Fitbit trackers often have difficulty with, so it's great to see that the Amazon Halo doesn't have that same pitfall.
And that's all you really need to know. Amazon Halo isn't as deeply integrated with the iPhone as the Apple Watch is, but for a third-party gadget, the iPhone experience is as good as you can ask for. It pairs nicely, works with most modern iPhones, and maintains a stable connection once it's configured. Whether you're interested in the $100 Halo Band or $80 Halo View, either Amazon tracker is a welcome accessory for the iPhone.
Next: Apple Watch 7 Vs. Garmin Fenix 7
Source: Amazon
ShareTweetEmailElon Musk Forced To Raise Prices For SpaceX Starlink Due To Inflation Related TopicsAbout The AuthorJoe Maring (1458 Articles Published)
Joe has been actively writing and talking about consumer tech since 2012. His biggest passion lies with smartphones, but he's happy to talk your ear off about just about anything with a CPU. He lives in Kalamazoo, MI with hiswife, two cats, and pit bull/boxer mix.