The Apple Watch is the most popular smart watch on the market. Disney is now offering something for Marvel fans that also own an Apple Watch. Eight new Marvel Apple Watch bands are now available at Disneyland Resort.
Marvel Apple Watch Bands — $34.99 each
We found all eight watch bands at Backlot Premiere Shop in Disney California Adventure. The bands fit both 42mm and 44mm Apple Watches.
This Apple Watch band features classic Marvel artwork. Included are Thor, Vision, Spider-Man, Captain America, Dr. Strange, and more.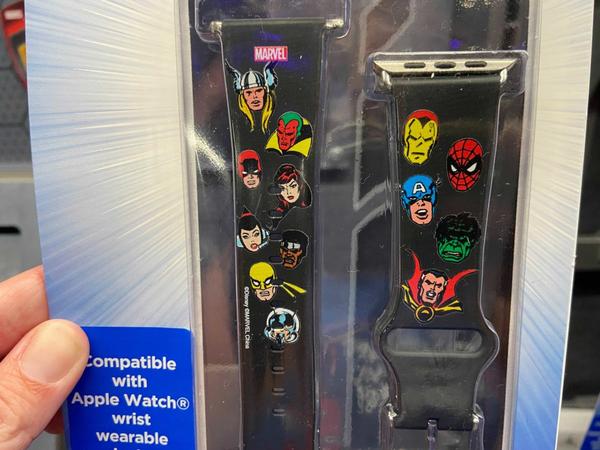 Marvel comic books cover both sides of this watch band.
Sam Wilson picks up the shield as Captain America in The Falcon and the Winter Soldier. Fans of the Disney+ hit will love this Apple Watch band.
Stylized Captain Marvel artwork is surrounded by jets and stars. A lone jet races across one side.
One side has Star-Lord's face and logo. The other side has a detailed image of Peter Quill in action.
In a not-so-subtle nod to Star-Lord's Awesome Mix Tape, this Apple Watch band has a cassette tape for each Guardian: Rocket Raccoon, Groot, Mantis, Star-Lord, Gamora, and Drax.
A happy Baby Groot dances in front of a wood grain background.
Six Marvel character logos are printed on one side. The artwork changes through pride colors. The other side of the band has "LOVE" printed in pride colors.
For more Disneyland Resort news and info, follow Disneyland News Today on Twitter, Facebook, and Instagram. For Disney Parks news worldwide, visit WDWNT.
For more information on booking your next trip with our official travel agent sponsor, the Vacationeer, visit wdwnt.travel.
Mike BakerMike caught the Disney bug after his first on-property stay at Disney's Grand Floridian Resort & Spa. In the intervening years, Mike is either planning his next trip, writing about a trip, or helping his friends plan a special trip to Walt Disney World.Mike lives in Central Pennsylvania with his wife. He has two adult children. A teacher, instructional coach, and lifelong learner, Mike also works as the percussion instructor for the local high school.You can contact Mike at [email protected]