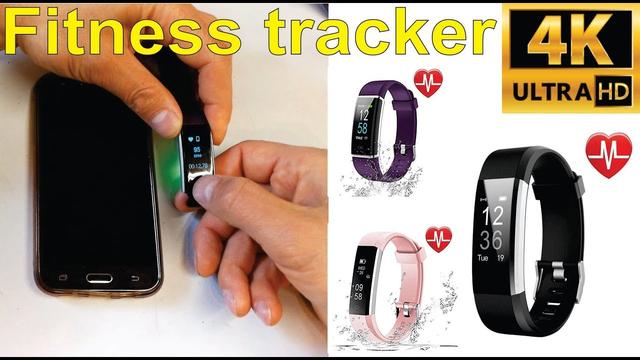 A fitness tracker or smartwatch could help you to begin or further your fitness journey. It can log activities such as your steps and distances travelled, provide motivational prompts to stop you flagging, and help you stay on track to meet targets. If you're new to the world of wearable technology, you may be wondering where to begin with your shiny new device. That's where we can help.
Follow the process in this guide for a seamless and stress-free setup – you'll be ready to go in no time. Then take a look at our five easy tips for getting the most from your fitness tracker or smartwatch – from keeping it clean to improving the accuracy of its tracking.
If you haven't yet bought your perfect device, head over to our round-ups of the best fitness trackers or best smartwatches based on our independent tests.
How to get started with your fitness tracker or smartwatch
Some fitness trackers and smartwatches come supplied with a USB charging cable and an AC adaptor plug to connect it to the mains for charging. Others come with a just a USB charging cable, which you can use with an AC adaptor plug that you already own – such as the one for charging your smartphone or tablet – or by plugging it in to a USB port on your PC or laptop.
There are three main types of connection between the USB cable and your device. Some fitness trackers and smartwatches have a micro USB slot, so it's simply a case of plugging it in. Others come with a magnetic charger that connects to magnets on the back of the device, or a clip that holds the watch or tracker in place while charging.
A battery or similar symbol will appear on your wearable's screen to show it's connected and charging. We test the battery life of every smartwatch or fitness tracker, so we can tell you how often you'll need to charge it.
All fitness trackers and smartwatches will pair with a companion app on your smartphone – the manual should tell you the name. In some cases you'll need to install more than one app.
Most wearables are compatible with both Android smartphones and iPhones, although a handful are only compatible with one operating system or the other. For example, Apple Watches can only be used with iPhones.
You'll need to navigate to Google Play or the App store on your phone, search for the companion app – say, the Fitbit app or Garmin Connect – and click install.
Once you've installed the app, you'll be prompted to set up an account, or log in if you already have an account with that brand. Setting up an account may involve creating a username and password, selecting your device from a list and entering biometric data such as height and weight. You'll also be asked to agree to any terms and conditions.
Now it's time to pair your fitness tracker or watch with your smartphone, which allows you to view your health and fitness data via the app. Make sure your device is near your phone, and that your phone is connected to the internet. You'll also need to ensure your phone's Bluetooth is switched on; you can find this in the settings menu.
If the pairing process doesn't start automatically, then look for an option for pairing or setting up your device on the app. The best companion apps will give you clear on-screen guidance to help you through the pairing process.
If you're struggling with pairing, move away from other Bluetooth devices, such as headphones or speakers, when trying to connect.
To turn on your Apple Watch, press and hold the side button until the Apple logo appears on your watch screen. This may take a few minutes.
Install the app Apple Watches, such as the Apple Watch Series 6, are designed to be paired with an iPhone. The Apple Watch app will already be installed on all iPhones.
Pairing Pairing should begin automatically, with a message saying 'use your iPhone to set up this Apple Watch' appearing on your iPhone – if it doesn't, then navigate to the app. Select whether you want to set up the watch for yourself or for a family member with Apple's 'Family Setup', which allows relatives who don't have an iPhone to still use a smartwatch. An animation will be displayed on the the screen of your Apple Watch, which you'll need to scan using the camera on your iPhone. You'll then need to sign in using your Apple ID, which all iPhone users have.
Personalising your watch You can now begin to adjust the settings on your Apple Watch to suit you. You'll need to set a passcode to be able to use certain features, such as Apple Pay contactless payment. This is done using the app.
You can now start learning how to use your Apple Watch. Follow the setup wizard on the app, or check out the manual for guidance on the gestures needed to navigate to different menus. Alternatively, scroll down for our tips and tricks for getting the most from your smartwatch.
Tizen is the operating system for Samsung smartwatches, and is compatible with both Android smartphones and iPhones.
Install the app Samsung and Android phone users will need to download the Samsung Galaxy Wearable app from the Google PlayStore. iPhone users will need to install the Samsung Galaxy Watch app for smartwatches or the Samsung Galaxy Fit app for fitness trackers.
Pairing Once you've downloaded the relevant app, tap 'open' and then 'get started' ('start the journey' on iPhones). Select your watch, then follow the on-screen prompts to complete the setup process.
Personalising your smartwatch You'll be able to adjust most of the watch settings easily from the app, and install new apps either from the watch itself or from your smartphone.
You can now start learning how to use your Tizen smartwatch. Follow the wizard on the watch to learn the basic gestures for navigating around, or see the guidance in the manual to find out more about other functions. Alternatively, scroll down for our tips and tricks for getting the most from your smartwatch.
When it comes to Wear OS smartwatches, there are plenty of devices available from multiple manufacturers - including Fossil, Kate Spade, LG and Misfit.
Install the app You may need to pair your Wear OS smartwatch with multiple apps on your smartphone. As standard, you'll need at least the Wear OS app, which you can install from the Google Play store. Details for any other apps can be found in the quick-start manual that comes with your device. Usually for fitness data, you'll have the choice of:
- the brand's app (if available)
- Google Fit
- a third-party app.
Pairing To start the pairing process, open up the Wear OS app and then follow the on-screen instructions. You may need to go through a similar process with any additional apps, too.
Personalising your smartwatch The Wear OS app doesn't have many options for changing settings on the smartwatch. Wear OS smartwatches come with a standard selection of apps pre-installed, such as Google Maps. After selecting your watch, a code will appear on your phone and watch. If they're the same, tap 'pair' and expect to wait a few minutes. If they're different, restart your watch and try again.
Customising your device Installing or uninstalling additional apps, changing watch faces, or managing brightness and text size settings may be done from the watch itself, or from another companion app. This will depend on the smartwatch you have, so you'll need to check your manual or follow guidance on the app.
You can now start learning how to use your Wear OS smartwatch. Check out the manual for guidance on the gestures needed to navigate to different menus, and how to use the different functions. Alternatively, scroll down for our tips and tricks for getting the most from your smartwatch.
Staying active with a fitness tracker or smartwatch
Now that you're set up and paired, it's time to get active. Familiarise yourself with your smartwatch or fitness tracker controls and features by reading the manual. You'll most likely find a button to cycle through the on-screen menus, which may display steps, heart rate or calories burned, for example. This is sometimes combined with other buttons with different functions, or a touchscreen.
For those wearables that just have a touchscreen, you'll need to learn the different gestures for navigating around, for example swiping up, down or tapping.
Staying connected with a fitness tracker or smartwatch
Decide how connected you want to be. Do you want notifications each time a message or call comes through to your smartphone, or would you rather have some mental space?
To some extent, you'll need to decide this before buying, as some devices are much more sophisticated than others. Some, for example, have call capabilities, allowing you to take and even make calls through the watch itself. Others will direct a phone call to your tethered phone, so that 'accepting' a call starts the conversation on your phone. Some models only let you reject a phone call. Or you could buy an LTE watch – a watch with cellular or 4G connectivity, which can make calls even when your smartphone is out of Bluetooth range.
Once you're at the setting up stage, you'll usually have the option to decide if you want all notifications or none, although many devices will also allow you to choose some and not others.
Getting the most from your fitness tracker or smartwatch
We've found smartwatches and fitness trackers that are wildly inaccurate at tracking stats such as steps, distance and heart rate. We've tested wearables from popular brands, for example, that are out by as much as 60% when measuring heart rate or 80% when logging steps.
Picking one of our best fitness trackers or best smartwatches will ensure you're getting an accurate device. But you can give your wearable a helping hand, too.
On the smartphone app, look for options to add additional biometric data. On some, you'll be able to do this on the device itself. It's nice to have the option, as it may be easier to do on the larger screen of your phone. Adding your height or stride length should improve the accuracy of the step count and distance calculated using steps.
It's important to position your fitness tracker or smartwatch correctly, particularly if it has a heart-rate monitor built in. Follow the guidance for positioning your device, either in the manual or during the setup on your smartphone, including specifying whether you plan to wear it on your right or left wrist if you can enter this information.
Generally a tracker should be worn just above the wrist bone, and tight enough to stop it slipping around, but some manufacturers are more specific. Suunto, for example, says that you should wear your smartwatch one finger above the wrist bone during daily use, and two above the wrist bone during exercise.
Some of the best fitness trackers and smartwatches we've seen give you the option to set customisable goals, compete against friends online, earn 'badges' and view weekly workout summaries. Setting these up will help you to track progress and stay motivated. Be ambitious but realistic when setting your goals, and change them as you improve, so you don't get complacent or else feel like a failure and give up early.
It's important to run updates on your fitness tracker or smartwatch and on the companion app when prompted. Updates will fix bugs and introduce new features, as well as ensuring you get any privacy or data updates.
Make sure you keep your fitness watch or activity tracker clean, particularly after you've been exercising or wearing it for long periods of time. If you don't, then the band could start to smell bad and even result in you getting a rash.
Most fitness trackers or smartwatches have a plastic or rubber strap. It's often OK to clean these by wiping with a damp cloth and using a mild soap to remove any oil or dirt, but check the manufacturer's guidance. Some tell you to use water only, and that soap, hand sanitiser, cleaning wipes and household cleaners could all be too harsh, or could get trapped under the band and irritate your skin. Some allow you to use a soap-free cleanser.
Avoid bug spray, alcohol, make-up, perfume, sunscreen and other lotions coming into contact with your strap, as these could damage or discolour it.
For tough stains, you may be able to scrub with a wet toothbrush – again, check with the manufacturer. Wipe down metal or leather bands with a non-abrasive, lint-free cloth – lightly damp, if need be.
Dry it with a non-abrasive, lint-free cloth. If you buy a leather or metal band, it won't be water resistant. That means soaking it might tarnish it or cause other damage.
It's also important to make sure you dry the band and your skin properly if you wear your device in the shower or pool or after doing exercise that leaves your skin sweaty.
And, while you should wear it as often as possible, so it can build up as comprehensive a picture as it can, you should also leave it off every so often to give your skin a break.