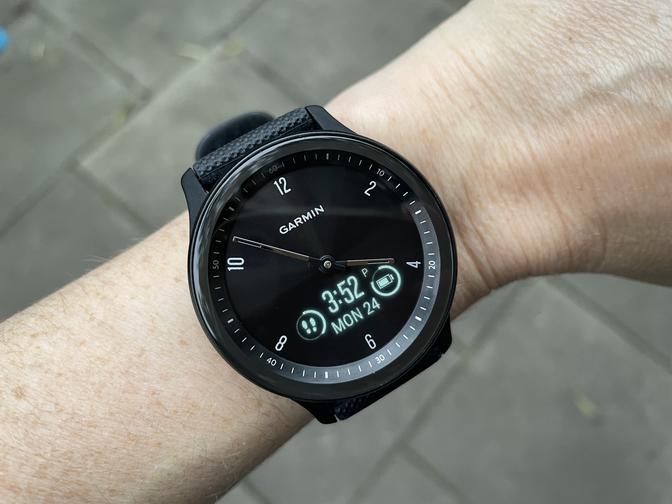 At first glance, the Vivomove Sport appears to be a minimalist analogue watch, but it has a neat trick up its sleeve. Raise your wrist to wake the device and the watch hands sweep out of the way with a pleasing movement, revealing an otherwise camouflaged small screen on the lower half of the watch face.
It's a tracker in watch form, then, with an attractive analogue face. The Vivomove Sport is aimed at people who want the benefits of a smartwatch and fitness tracker, but don't want to look like they're wearing one. Available in ivory, cocoa, black and mint green, with textured silicone straps, the Vivomove Sport doesn't take itself too seriously. At £159.99, it will appeal to casual exercisers who want to be more aware of their overall health.
Like the other watches in Garmin's Vivomove range, the Sport has analogue looks with hidden smartwatch and sports tracking features. It's the most affordable in this range and unlike the other options, which have metal bezels and fancy straps, it's not trying to compete with fashion watches. With its matt plastic bezel and textured silicone strap it's a semi-smart everyday watch with a slightly sporty look.
My first impressions are that it's a good-looking watch, smaller and lighter than I expected. The watch face is sleek and elegant in a minimalist way, while the bezel and strap hint at its aspirations as a sports watch. On my small wrists the black model I'm testing looks a touch oversized, but it is lightweight and comfortable to wear.
The watch provides sports and activity tracking, relays notifications from your phone and displays health stats at a glance. Navigating is all done using the touchscreen: you swipe, tap and hold to scroll through the different menus. I found the tapping and swiping, and the existence of two separate menus, a bit fiddly. And all that swiping can make the small screen rather smeary – a screen that isn't the sharpest to begin with.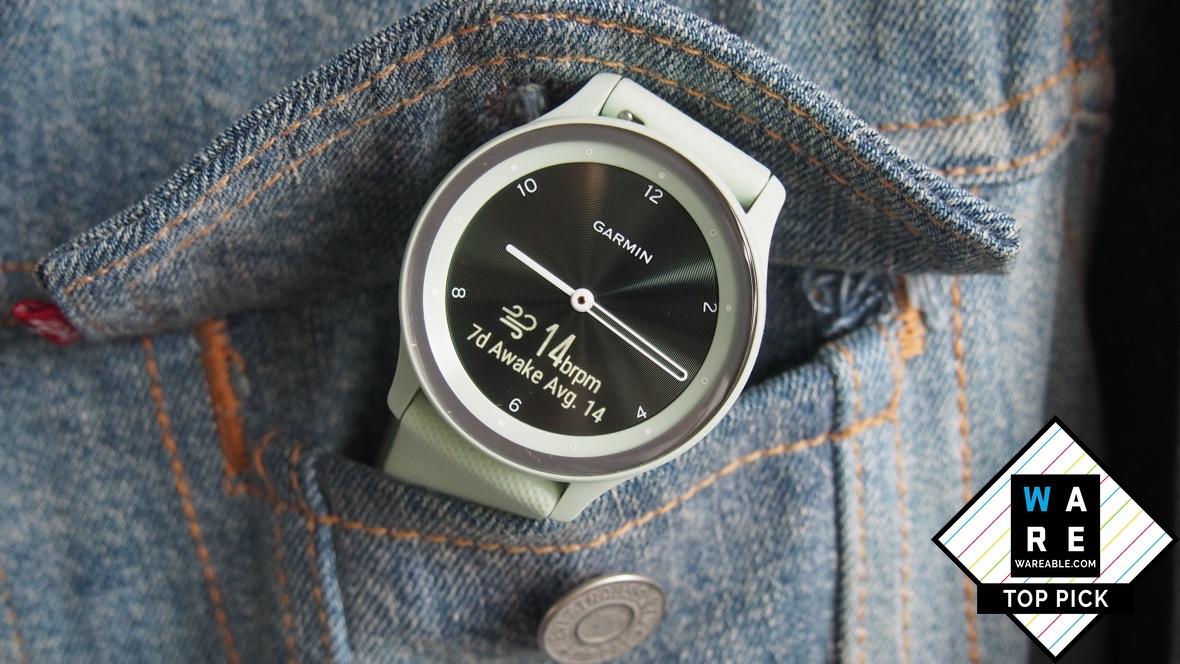 From the main screen, you can swipe to see your basic health data including heart rate, step count, "intensity minutes" (any exercise that raises your heart rate) and your breathing rate. It also gives you Garmin's nifty scores for your current stress levels and your "body battery". The latter is derived from all your health metrics combined and is represented by a number out of 100, which gives you an idea of how well rested you are in the morning, or how worn out you are at the end of the day. It's slightly simplistic, but I found it a good general indication of when I needed some extra rest.
In smartwatch mode the watch also gives you weather, calendar events and all your phone's notifications. And I do mean all of them: I wanted to opt out of some app notifications on the watch but there's no option to pick and choose apps. (You can choose to turn all app notifications off, and just have calls and texts, or no notifications at all.) You can control music on your phone using the watch, while there's also menstrual cycle tracking for women, and a handy tool for logging how much water you drink during the day. You can remove any of the widgets you don't want to see on the watch from the app.
When you want to track exercise, you press and hold the touchscreen to see some charmingly animated icons offering 10 activities (walk, run, cardio, bike, swim, yoga, strength training, breathwork and treadmill as the default). You can change the selection in the app, although walk and run can't be removed, and there's no dedicated rowing option. The Garmin app recognises many more activity types than the watch does, so you can edit workouts afterwards – changing cardio to rowing machine, for example.
The watch has no GPS of its own but it can tap into your phone's GPS. I have found that it connects very quickly to my phone's signal and so far the GPS accuracy has been reasonably good, though not perfect.
Although it has Sport in the name, it's a stretch to call this a sports watch. It falls miles short of the tracking offered by a dedicated running watch from Garmin's Forerunner range, like the similarly pricedForerunner 55(£179.99). I found checking my stats while running a frustrating experience because the screen is so small it can show only one stat at a time (time elapsed, pace or heart rate, for example). Swiping the tiny touchscreen with sweaty fingers to see the data mid workout is very fiddly. If all you want to do is look at your post-workout data in the app, the Vivomove Sport will do just fine, but for someone training for a race or who is just more serious about fitness, it's likely to disappoint.
One of the best things about Garmin devices is the extensive data they serve up, with heart rate charts, health metrics graphs, sleep analysis and maps with visual representation of your speed using colour-coded lines. And Garmin provides access to all your data for free, unlike Fitbit, which requires a subscription to show you the same level of data. The Garmin app, however, is far from intuitive to navigate, with a labyrinth of confusing menus.
I will be testing the Vivomove Sport more fully over the next few weeks. On first impressions it's comparable to theFitbit Luxe. Both take a holistic approach to health with an emphasis on mindfulness, stress reduction and improving the quality of your sleep. Although it's a different shape to the Luxe, the Sport is similarly limited for sports and run tracking in particular, owing to the small screen, touchscreen controls and lack of built-in GPS.