Apple Watch 7 offers quite a few advanced tracking features – noise warning, cycle monitoring, emergency services call – but on the daily, most of us just want to see how many calories we've burned. So, can you trust your Apple Watch with an honest calculation? How accurate is Apple Watch Series when it comes to calories tracking?
How Does Apple Watch Track Calories Burned?
Smartwatches from Apple use a variety of indicators to track the calories a user burns. First of all, the obvious one: age, height, weight. This data is required by the Health app when you sign in. The more accurate info you provide, the better will the watch track your calories.
Then, Apple Watch Series takes into account heart rate and movement. These two matter A LOT when Apple consider AMR and BMR, active metabolic rate and basal metabolic rate, respectively.
Basal metabolic rate is the speed at which humans burn the calories ingested in resting mode while the active one looks in detail at the calories expended through exercise.
This, in turn, are translated to active calories and basal calories making up for total calories. Apple Watch Series shows you total calories as well as active, which is calculated by subtracting the basal (resting) ones from the total measured.
How Accurate is Apple Watch Calories Feature?
Apple Watch should be pretty accurate when counting calories.
For one, the BMR is pretty standard to measure, since it uses internationally agreed-upon measurements in the scientific world. On the other hand, there has been at least one study concluding that Apple Watch was one of the best in its class out of 60 other competitors for energy expenditure tracking.
However, it's worth remembering that the Apple Watch is, well, a consumer smartwatch not a medical device. So, it's not as accurate as a medical device and its results could be slightly off at times.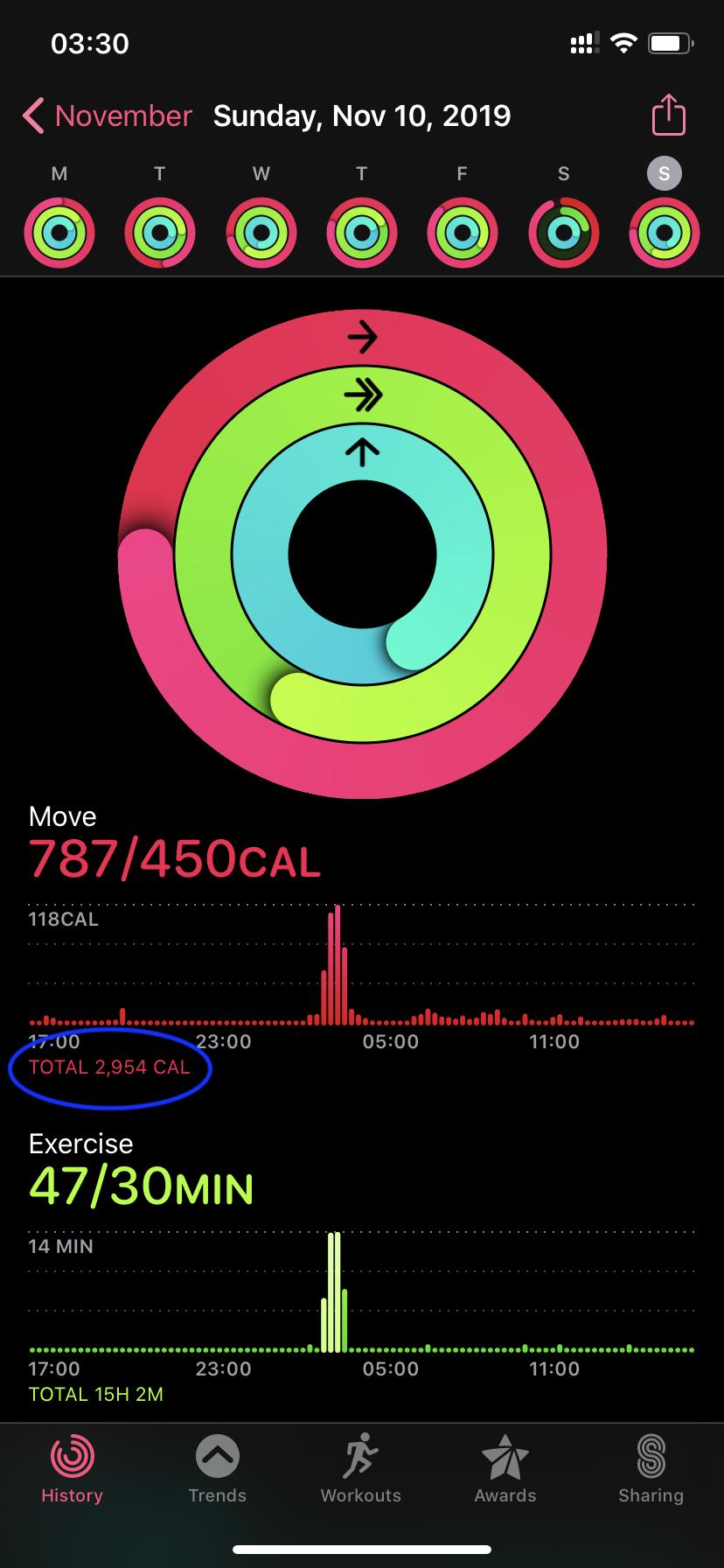 Apple Watch 7 Comes With Larger Display But Not Much Else
When lifting weights, depending on the weight chosen, a user's body will expend more calories or less. However, because the smartwatch considers only the movement of the wrist, it won't be able to tell the difference weights make.
This is a piece of data the user will have to input separately, instead of relying on the general calories tracker.
Apple Healthcare Powered By Apple Watch – Is This the Future?
How to Improve Apple Watch Calories Tracker
If you are less than happy with the data the smartwatch shows, there are a couple of things you can try to improve its tracking.
Calibrate the watch. While you're wearing the Apple Watch, move towards an outdoor area with flat ground that has good GPS reception. There, open the Workout app. Select Outdoor Walk or Outdoor Run from there and set a goal by tapping the three dots. Then, walk or run – depending on the option chose – for around 20 minutes.
Make sure the Health app has updated, accurate info about you. If you haven't used your Watch or opened your Health app in a while, now it might be time to do so. Make sure the app has the real and accurate height and weight so it can monitor your BMR correctly.
Turn Apple Watch Into a Bedside Alarm Clock With This Glass Orb
Be careful how you move your hands. Since Apple Watch relies on the movement of your wrist, check from time to time that you don't move rigidly, with your arms stiff. If that happens, the smartwatch might not consider it movement at all and thus, refrain from tracking it. The same applies if you're on a walk with a stroller. Your saving grace in the second case is the Workout app – this one takes into account accelerometer, heart rate sensor, and GPS. Just use that one instead!
Now it's your turn! Are you an Apple Watch Series owner? If so, how has calories tracking been working out for you?
Subscribe to our website and stay in touch with the latest news in technology.
You will soon receive relevant content about the latest innovations in tech.
There was an error trying to subscribe to the newsletter. Please try again later.
Can You Trust It? How Accurate is Apple Watch Calories TrackerRelated Items:apple, apple watch, apple watch series 7, Featured, health Share Tweet Share Share Email Click to comment
Your email address will not be published. Required fields are marked *
This site uses Akismet to reduce spam. Learn how your comment data is processed.