(Pocket-lint) - There are now countless fitness trackers available to help you log your activity, sleep and wellbeing.
Filtering through the best devices can be a bit of a challenge, though, which is why we're here to help. We've tested, rated and ranked some of the top activity bands in order to help you discover which is right for your wrist.
If you require step counting, calorie tracking, sleep advice and maybe even heart rate tracking and GPS connectivity, you're in the right spot.
All of the trackers detailed below have been tested to see which provide the best blend of features, tracking accuracy, comfort, design and price.
We've also got distinct features for best smartwatches and best GPS sport watches, too, for those who'd prefer a different flavour of wearable.
---
What are the best fitness trackers?
---
Our Top Pick: Best Fitness Tracker
Pocket-lint
Fitbit Charge 5
squirrel_widget_5867786
The Fitbit Charge 5 takes everything that's great about the Fitbit Charge 4 and improves on it subtly. That means it's a better standalone fitness device, able to give you a little more information without the need for a connected phone.
It's still slim, comfortable and able to track all your daily stats like steps, sleep and activities, too, with the added extra of being able to give you an accurate route and speed for runs and rides. It also supports Fitbit Pay for mobile payments.
The downside that functionality brings is that heavy GPS use will drain the battery quickly, but, if it's a fitness tracker you're after, this certainly ticks all the boxes. On top of that, the Fitbit ecosystem is great, supported by a brilliant app that presents your data in a way that's easy to understand and doesn't baffle too much with numbers. Instead, it presents sensible metrics, so you're always in the picture.
Fitness trackers we also recommend
The Fitbit Charge 5 is currently our pick for the best fitness tracker available to buy. However, that doesn't mean it's right for every type of user. Here are four other excellent fitness trackers to consider.
Pocket-lint
Fitbit Inspire 2
squirrel_widget_338177
The Fitbit Inspire 2 offers almost everything the Charge 5 does but in a slimmer, cheaper package.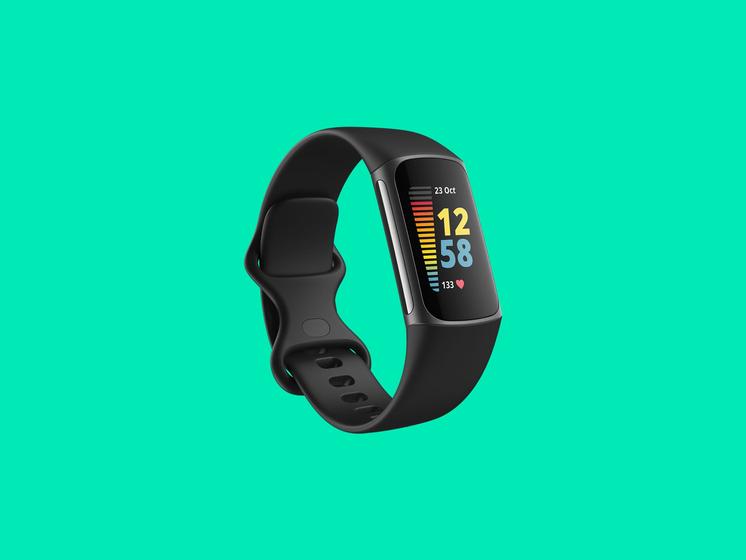 It's not as premium in appearance as the Charge 5, but it offers great value for money, interchangeable straps and plenty of features including heart rate tracking, exercise tracking and advanced sleep tracking.
The Inspire 2 replaces the Fitbit Alta and Fitbit Flex lines, offering a good OLED display, great performance, good battery life, smartphone notifications and it is also waterproof. For its price tag, the Inspire 2 is an excellent fitness tracker.
Pocket-lint
Garmin Fenix 7
squirrel_widget_6481204
The Garmin Fenix 7 is an outstanding device, with enough smarts to act independently as a fitness tracker, running watch or smartwatch. It's premium in pretty much every way, with a superb build, tons of tracking metrics and a battery life that can last roughly between 15 - 20 days.
It's not cheap, obviously, and it's crucial to point out that you can find a lot of its features on other Garmin watches for less money, but, whether you're just logging daily health and activity, training for your ninth marathon or are interested in multi-day adventure races, the Fenix has something for you in terms of functions.
As ever with Garmin's Fenix range, the real difficulty is picking between the many, many different variations. The regular 7 is 47mm, while the 7X is 51mm and the 7S is 42mm, providing roughly the same watch experience. However, this is complicated by the fact that each of these three versions now has a Solar and Solar Sapphire model, as well as the standard model. At least you can be safe in the knowledge that there's something for everyone.
Fitbit
Fitbit Versa 3
squirrel_widget_338157
The third of Fitbit's Versa trackers is the line's best yet, pairing some of the convenience of a smartwatch with the stripped-back simplicity of a tracker.
You get some great controls but also very solid battery life, and a design that's pretty impressively modern and stylish while maintaining good build quality that makes the Versa 3 durable.
The experience hasn't been greatly elevated compared to the previous generation, but this is still a worthy pick for those new to the Fitbit line of devices. For those who want the look of the Fitbit Sense but only really require the features of the Charge 5, this is the pick.
Pocket-lint
Garmin Forerunner 55
squirrel_widget_4956541
If you like the look of the Garmin Fenix 6 Pro but can't help wincing at its sky-high price, then a Garmin that's a little more affordable could be an option.
The Forerunner 55 is still a premium watch, but it strips out some of the fancier options like mapping and has smaller battery life.
However, crucially, you still get Garmin's peerless fitness tracking and it's absolutely brilliant for runners, so this is well worth checking out.
Other products we considered
When figuring out which fitness trackers we believe to be the best currently available, we spent hours testing and researching. As with all our guides, we consider a range of factors when it comes to recommending devices - and also when a new device enters our top five selections. This isn't just our own testing, either, as we also consider consumer reviews, brand quality and value.
With all this testing, there are many products we test that don't make the final cut. And since they may still be the right fit for some people, despite not falling into our top picks, we've listed them below.
How to choose a fitness tracker
Choosing a fitness tracker is only getting harder, given how many options there are out there. Here are some questions to help you narrow things down.
When it comes to something you'll be wearing on your wrist, it's fair to say that looks do matter. It's a matter of personal taste whether you like a watch-style round face, one of the many square-faced options or a smaller, slim tracker that often comes with lower prices.
These different styles all contribute to quite different looks, in our opinion, so it's worth taking a beat to decide which types you prefer.
A big barrier between the low-cost trackers that flood one end of the market and pricier premium options comes in the form of built-in GPS. Cheaper trackers will piggyback your phone's GPS to work out your location that way, but this means that you'll need to take your phone with you on runs or cycles to get an accurate map at the end.
By contrast, built-in GPS tends to cost more, and can be taxing on your tracker's battery life, but makes for a way more freeing experience as you exercise since you can leave everything behind you. So, if that matters to you, definitely keep track of the GPS capabilities of the trackers you're interested in.
Something that plays into that GPS-related decision will be what type of exercise you actually want to do with your tracker. If you're a runner things are pretty straightforward, and the same is probably true of cycling. For swimmers, though, or those into more niche options like climbing, tennis or golf, making sure that your tracker can accurately monitor your efforts in less common sports or types of exercise is worth double-checking. For one thing, waterproofing is a must!
Another factor that will make a difference in terms of your choice is what phone you use. If you're an iPhone user, you'll potentially be tempted by one of a few superb Apple Watch models, while Android users have a world of choice in front of them.
In reality, almost all trackers should now work equally well on either mobile operating system, but definitely check that they are compatible with your smartphone before you make an order, to avoid disappointment.
Every product in this list has been tested in real-life situations, just as you would use it in your day-to-day life.
Fitness trackers are the definition of a day-to-day product, too, living on your wrist in most cases as you go about life and try to keep healthy and active. We've used all the models on this list extensively, and plenty more besides, to ensure they hold up to extended use and are genuinely great trackers.
This also means testing them against each other and previous favourites to double-check their tracking chops, how well they count steps and distance, and how their GPS monitoring holds up where applicable. We also care about how they look and feel, and how easy they are to both set up and use. Finally, value is hugely important, so we're very much interested in the pricing attached to them as well.
As with any roundup, it's not possible to deliver a list that works for every type of user, but we lean on the experiences and opinions of the wider Pocket-lint team - as well as thoroughly assessing the areas above - in order to do our best in this regard.
What we always tend to avoid when compiling these picks are needless spec comparisons and marketing lines; we just want to provide an easy to understand summary that gives you an idea of what each tracker is like to use. Our verdicts are concise, but this is purely in the interest of brevity
Writing by Britta O'Boyle. Editing by Conor Allison.