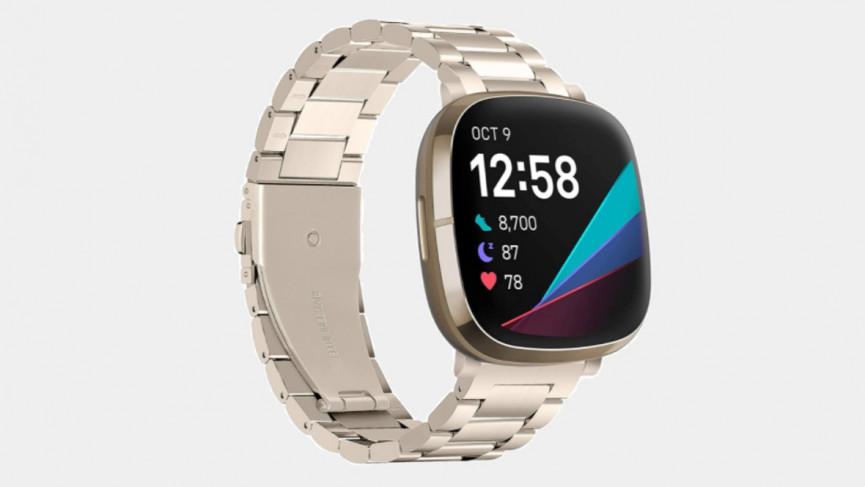 The Fitbit Versa is among the best smartwatches you can buy right now. With the arrival of the Versa 3 and the very similar-looking Fitbit Sense, you're getting more Fitbit watches that offer the ability to swap in different bands and straps.
The Versa range are some of the most stylish smartwatches on the market and there's a whole host of band options to choose from if you want to add some customization.
Read this: How to clean a Fitbit band
With interchangeable bands, one of the best things about the Versa is its ability to transition from day to night, and from formal to informal occasions.
There are officialFitbit accessories that make a great pairing, but these also come with a premium price. If you're not looking to spend as much, we've looked at the best third-party Versa bands here, many of which are just as good as the official options for a fraction of the price.
So whether you're looking for a sweat-resistant strap for the gym, or a stylish option for a gala, we've picked the best Fitbit Versa band options right here – and all for a lot less than Fitbit's official options.
The answer sadly to that question is no. If you own a Fitbit Versa, Versa 2 or Versa Lite then your smartwatch uses the pin mechanism method to release the bands from the watch case to change things up.
For Fitbit Versa 3 or Fitibit Sense owners, you'll have the new quick-release system, which does mean older Versa bands are not compatible with the new Versa models.
We'll break down our top picks below to make sure you grab the right bands for the right Versa.
Poshei silicone sports band
Price: $6.99
It's always useful to have some back up bands for when it's exercise time, and these sporty silicone options comes in packs of three for a lot less than Fitbit's official bands.
There's a mix of different colors available including the ones above and pink, purple, white and red looks for something a bit brighter.
It supports the new, snap-on design with both small and large band sizes available. They're also water and sweat-proof, which does mean you jump in the water with them and they should be fit to handle a fair few tough workouts.
Buy from Amazon
Hatalkin stainless steel band
Price: $19.98
Fitbit's official metal band options are pricey, so this is a way to get that metallic look for a fair bit less.
It comes in either black, gold or silver stainless steel and should be fit to sit on most wrist sizes. If you need to adjust things, it does also come with a kit to take out links if you're finding it sits too big or small on your wrist.
Buy from Amazon
Aresh sports case band
Price: $13.88
Here's a band option you're not going to find in Fitbit's official collection. Putting a blocky, translucent look on your Sense or Versa 3, it also puts a bumper around the display to add some extra protection.
It's available in five different colours and is designed to attach itself to your smartwatch without playing around with mechanisms around the back. It's also built in a way that you don't have to whip it off when it's time to do some charging.
Buy from Amazon
TWBOCB leather band
Price: $18.99
This leather band matched up with a metal buckle comes in seven different colors when you want to dress up your Versa 3 or Sense on a budget.
Its slim profile gives it that more elegant look and it work with that tnew quick-release mechanism to make it easy to swap in something that's a better fit for a run or hitting the gym with.
Buy from Amazon
Nofeda sports band
Price: $7.99
Another sporty band option for the Versa 3 and the Sense, this water resistant band has a more perforated look to make it more breathable for getting sweaty with.
Made from TPU plastic, It comes in small and large band sizes with your pick of up to 16 different colors including this pretty attractive olive number.
Buy from Amazon
StrapsCo Vintage Leather Strap For Fitbit Versa/Versa 2
Price: $24.99
If you're looking to add a bit of class to your Versa or Versa 2, then check these leather numbers. They boast a vintage style, with every shade from black to light tan so you can really personalize to your taste, and at a great price given the leather quality.
They feature the easy quick release mechanism for attaching to the watch. And they come in short-medium measuring 194mm and a medium-long version up to of 207mm, for those with thicker wrists.
Buy from StrapsCo
OenFoto Sport band
Price: $6.99
Offering a slightly alternative look to Fitbit's own sporty bands, this option matches up a narrower-looking design with a watch-style buckle to keep it firmly in place around your wrist.
Available in small and large sizes, it plays nice with the Versa, Versa 2 and the Versa Lite watches. It also comes in a pretty extensive range of colors, whether you want something with a more pastel look or you're after something that's brighter and more eye-catching.
Buy from Amazon
Sports band
Price: $7.99
The Fitbit Versa is able to replicate the Apple Watch's looks perhaps better than any other smartwatch on the market, and that impression can be bolstered further by hitching one of these perforated sports band to your device. A carbon copy of the Apple Watch Nike+ model, you can pick this strap up in a number of different two-tone variations, including the black and green option shown above.
The silicone material holds up to sweat and the perforations should also help with heat. If you're after a strap for working out, this is a good choice.
Buy from Amazon
Bayite leather band
Price: $11.99
Bayite doesn't stop there with its bands, with the company's leather Versa options also worth considering. We're big fans of Fitbit's own leather bands, but they're expensive at around ($49.99), and you can make a very tidy saving by instead opting for this third-party band.
The design is a little different, and it's not the same fancy Horween leather of Fitbit's own options, but if you're after a simple leather band coming in a range of colors, Bayite's is your best bet. Just note that you'll need to weigh up the sizing (140mm–191mm wrists) before you look to add this one to your collection.
Buy from Amazon
Kades leather band
Price: $10.99
If the textured leather strap above isn't what you're after, these Kades leather bands might suit your needs. There are no fewer than 20 design options but the pick of the bunch is the above Wine Red.
These straps are suitable for wrists between 140mm-193mm and use a standard watch buckle. The inner leather on the strap is made from a hypoallergenic material so should mean no nasty reactions.
Buy from Amazon
Stainless steel band
Price: $17.99
The closest thing to Fitbit's premium stainless steel strap without the high price tag. This classy option is a good choice for anyone looking to emulate the stylings of a traditional watch.
The strap can accommodate wrists between 130mm-200mm and luckily comes with link removal tools so you can resize it yourself. Instructions are on the Amazon product page.
Buy from Amazon
Kmasic sport band
Price: $9.99
Another Apple Watch lookalike here, and one that closely resembles the entry-level sport band of the Versa rival. There's nothing flashy about this option from Kmasic, but it does come in a range of colours and is considerably cheaper than Fitbit's own rubbery sport bands.
The only thing you really need to worry about here is the sizing – the small band fits wrists of 140mm–191mm, while the large accommodates those between 160mm and 210mm.
Buy from Amazon
Youkex colorful strap
Price: $8.99
Many of the options on this list provide a replica of something offered by Fitbit or Apple, but this colourful band from Youkex gives you something a little different to the standard, run-of-the-mill options. It can be a little tough to clip into place, like many other Fitbit Versa bands, but this can certainly brighten up your wrist if you're tired of the obvious, one-tone bands.
Buy from Amazon
Milanese loop
Price: $7.90
It wouldn't be a third-party band list without a Milanese loop option, first popularised (again) by Apple. The difference here, of course, is the significantly cheaper price at which you can pick up one of the eight different straps.
And with Fitbit itself only offering metal link bands, this is a great option for those who also don't want the faff of dealing with a watch tool. Just make sure you're picking the right size and you're good to have this magnetic clasp lock in wherever feels comfortable. It makes adjusting the size throughout the day a breeze.
Buy from Amazon
Bayite thin leather band
Price: $12.99
Bayite's regular leather band shown above is a good replica of Fitbit's own bands, but this thinner variant offers wearers something slightly different. Coming in 12 different colours and patterns, this makes the already-light Versa feel even more feathery on the wrist. Definitely a more women-friendly option than many other third-party straps.
Buy from Amazon
Rose gold & bronze leather band
Price: $44.99
This is one of the best looking leather options we've seen for the Versa so far. It measures in at just 7mm thick and is designed for wrists sizes ranging from 127mm to 178mm. The brass metal on the buckle nicely complements the skinny band and actually gives that smartwatch a more bracelet feel than Fitbit's official band offerings.
Buy from Etsy
Cotton cord band
Price: $41.60
For a big splash of colour, this eye-catching Versa band comes in a range of different styles and band sizes (127mm to 190.5mm). They're made from cotton with a stainless steel buckle keeping the smartwatch securely on your wrist. If you're a fan of Fitbit's PH5 collection bands, this colourful alternative should have serious appeal and is sure to stand out from the crowd.
Buy from Etsy