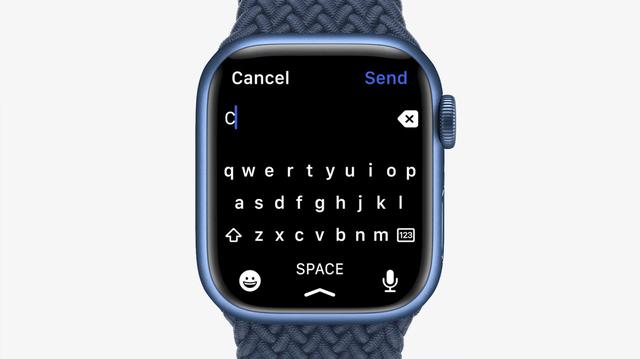 Apple Watch Series 7 is due to be announced soon, almost certainly on Tuesday, September 14 (here's why). And though there are worrying rumors about production issues, there's plenty to look forward to, with an all-new design that's the biggest change in the Watch's history. You can see renders of what the Watch may look like, from Phonearena.com, in this post.
MORE FROM FORBESApple iPhone 13: Everything We Know So FarBy David Phelan
This includes a bigger display and case size, with the current 40mm and 44mm cases likely to be switched for 41mm and 45mm models.
All of which is highly intriguing, but it leaves current users wondering if their stock of bands, bracelets, loops and straps will suddenly become redundant. Here are my thoughts about what the future holds.
What the case sizes mean
It's important to remember that the case sizes refer not to horizontal or diagonal measures but the vertical height of the case. So, adding 1mm to the height doesn't necessarily mean the same addition to the width, which is, after all, the key thing when it comes to the bands fitting, isn't it?
Even if it did, that would be the equivalent of an extra 0.5mm at either side of the band, which you may not even notice.
Likelihood that old bands will work? Strong
MORE FROMFORBES ADVISORByAmy DaniseEditorByAmy DaniseEditor
A lesson from the past
Let's remember that it's only four versions of Apple Watch that have the current dimensions, Series 4, Series 5, Series 6 and SE. Before that, every Apple Watch came in 38mm and 42mm sizes. So, that was a bigger size change, 2mm instead of the predicted 1mm, and older bands still worked perfectly.
Mind you, that means a strap from a Series 3 Watch might conceivably be noticeably too small for Series 7, as a 3mm difference between 42mm and 45mm could be a bridge too far.
Likelihood that old bands will work? Uncertain
What about the latest straps?
This is a good point. The newest straps such as Solo Loop and Braided Solo Loop which were introduced with Series 6 are specifically noted by Apple as having more limited fit: "The Solo Loop and Braided Solo Loop bands are only compatible with Apple Watch SE and Apple Watch Series 4 or newer."
However, I've tried putting one of the splendid Loops on a Series 3 and it fitted well and worked flawlessly. I think Apple may be exercising an abundance of perfectionism here, and for most people the difference is too tiny to be concerned about.
Likelihood that old bands will work? Good
MORE FROM FORBESApple iPhone 13 Design Leak Claims Curious New Color ComingBy David Phelan
The SE factor
There's no likelihood that the Apple Watch SE will be updated this year. Read here for in-depth reasons why I think this. Which means that the current 40mm and 44mm SE will still be on shelves after the next announcement. It would be unthinkable for it to be discontinued after just one year.
So, that means that Apple either has to make new straps that are backward compatible with at least the SE or make straps that are only going to work for this year's models, again unlikely to the point of unthinkable.
Likelihood that old bands will work? Strong
What pundits are saying
Max Weinbach has just tweeted something interesting, saying that he's heard details from a store employee that "that they're not getting anymore 40/44mm bands in."
While I believe that new bands will be labeled 41mm and 45mm, that doesn't mean they won't work with older Watches. Currently, all bands are labeled either 40mm or 44mm but specified to work with older models in most cases.
Weinbach's information that the new Apple Watch will "use different bands that won't be compatible with old watches" is open to interpretation, at best. If old includes SE, then I don't believe it.
If old means Series 3 and before, that's possible. But still highly unlikely, I'd say. Is Apple going to curtail a successful ancillary market by saying it'll only sell bands for the latest Watches, I wonder?
Much more likely, I think, is that there will be some new bands designed for Series 7 where backward compatibility only goes as far as Series 4, like the Solo Loop and Braided Solo Loop.
Likelihood that old bands will work? Still strong
Conclusion
Given that older bands from Series 3 fit every Series 6 and SE, Apple Watch aficionados have a lot of bands. After all, customization was one of the elements Apple trumpeted when it launched the Watch.
I find it utterly incredible that Apple is going to risk alienating these fans by saying, upgrade to Series 7 and your watch band collection will shrink to just one usable band, the one you get with the new Watch.
It's possible, then, that new straps may have limited compatibility—though I find it hard to believe that standard straps like Sport Strap and Sport Loop won't work on earlier models, too—but I'm convinced that all your current bands will be forward-compatible to Series 7.
We'll know soon enough.
MORE FROM FORBESApple AirPods Pro 2: Coming, But There's A Catch, Insider SaysBy David Phelan