When Apple's original AirPods first came out, one of the things people liked about them was how lightweight and comfortable they felt in your ears. And because they were "open," there were two big advantages: comfort and awareness. You didn't have tips jammed into your ear canals, and you weren't cut off from the outside world. The alternative was noise-isolating earbuds, which create an occluded sensation that leaves you hearing your footsteps as you walk -- and unable to hear, say, approaching vehicles.
With the invention of transparency modes that let sound into noise-isolating buds like the AirPods Pro, that occlusion sensation has become less of an issue, but plenty of folks still hate wearing earbuds with silicon tips; they just find them uncomfortable. So the AirPods, now on their third generation, remain a popular choice and have had little competition as far as open-style earbuds go.
Now playing:Watch this: Sony LinkBuds Review: Next-Level Open Earbuds9:20
But Sony hopes to change all that with its new LinkBuds. The true wireless earbuds feature an innovative open ring design that looks a little weird at first glance. At $180, they cost almost exactly the same price as the AirPods 3, and I wouldn't be surprised to see Sony eventually start to match some of the AirPods 3 discounts (which have dipped as low as $140).
So, are the LinkBuds better than the AirPods 3? Well, in some ways yes and in other ways no. As usual, it's not a clear cut answer and may also depend on whether you're an Apple or Android user. But here's a quick look at both buds' strengths and weaknesses along with a conclusion at the end that hopefully helps you decide what option is best for you.
Read more: Best Wireless Open Earbuds for 2022
Sony LinkBuds
David Carnoy/CNET
Aside from their more discreet stemless design, the one big advantage the LinkBuds have over the AirPods is that they're designed to stay in your ears more securely thanks to the included fins or Arc Supporters, as Sony calls them (you get five different sizes). I wouldn't say these lock in quite as well as the Beats Fit Pro, but they're arguably more comfortable, particularly if you don't like having an ear tip jammed in your ear.
Like the AirPods 3, the LinkBuds are lightweight, each bud weighing only 4.1 grams compared to 4.25 grams for the AirPods 3. You may not completely forget you have them in your ears, but they are designed to be worn all day though you may have to take a break to charge them.
Battery life is rated at up to 5.5 hours at moderate volume levels, which is a little short of the AirPods 3's 6-hour battery life rating. The charging case is a little thicker than the AirPods 3's case but it's quite compact and has a similar footprint. There's a fast charge feature that delivers 90 minutes of battery life from a 10-minute charge but unlike the AirPods 3, the case is missing wireless charging. However, it, along with the buds, are made out of recycled plastic.
The LinkBuds also have a few distinguishing extra features, including Speak to Chat (your music automatically pauses when you talk so you can have a conversation and then resumes in about 15 seconds) and Wide Area Tap. Instead of tapping on a bud, you can tap on your face, just in front of your ear, to control playback. It's a cool feature and gives the LinkBuds an edge over the AirPods 3 for controlling playback and volume levels. And yes, you can program the taps to raise and lower volume.
Like the AirPods 3, they're IPX4 splash-proof and thanks to the Arc Supporters, they work well for running and other sporting activities.
The third-gen AirPods have Apple's spatial audio virtual surround sound feature, which works with movies and TV content along with music. Like the WF-1000XM4 and WH-1000XM4, the LinkBuds support Sony's surround sound music format, 360 Reality Audio. A handful of streaming services -- Tidal, Amazon Music, Deezer and Nugs.net -- have libraries of tracks recorded in the new format.
Lastly, the LinkBuds have Google Fast Pair, so connecting them to an Android phone is a cinch. But they unfortunately do not support multipoint Bluetooth pairing. That means you can't connect the buds to two devices at the same time -- like your phone and your computer -- or take an incoming call on your phone while the buds are paired to your computer.
As for sound quality, the LinkBuds sound good for open earbuds fall short of the third-gen AirPods, which offer better sound than their second-gen predecessors. The LinkBuds have a nice, open natural sound, well-balanced with good detail and just enough bass. But like a lot of open earbuds, they just don't deliver the same kind of bass response as a set of noise-isolating buds. For instance, a track like Spoon's Knock Knock Knock, which has a deep bass line, just doesn't have the same visceral impact as it does if you're listening over Sony WF-1000XM4 buds or even the AirPods 3, which have a little bit bigger sound overall.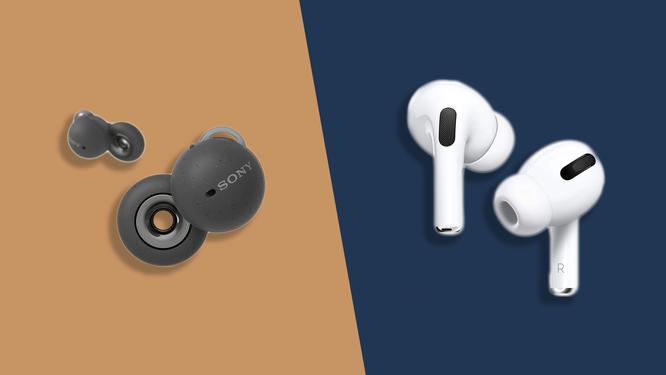 Finally, the LinkBuds are surprisingly good for voice calls. Sony won't say how many microphones the Link Buds have -- I see only one external mic on each bud -- but the company says it's improved the noise-reduction algorithm and callers told me my voice sounded clear with minimal background noise in the noisy streets of New York. They match the voice-calling performance of the AirPods 3.
Read our Sony LinkBuds review.
$178 at Amazon
AirPods 3
David Carnoy/CNET
The third-gen AirPods look a lot like AirPods Pro without ear tips, with the same shorter stems and same pinch controls as those of the Pro. I was able to get a very comfortable fit with the AirPods 3, but I still had to twist them up in my ears to get a secure fit while I ran with them. While they fit my ears better than the second-gen AirPods, I've heard from folks with very small ears that they prefer the fit of the AirPods 2, which are a bit smaller (one CNET editor said she couldn't get the AirPods 3 in her ears).
Aside from their new design, the AirPods 3's biggest change is to the sound quality: It's much improved. Also, battery life is better at 6 hours vs. 5.5 for the LinkBuds. The AirPods 3 are also officially water-resistant -- they're IPX4 splash-proof -- and support Apple's spatial audio virtual surround feature (for Apple users only).
Particularly for Apple users, the AirPods 3 have a few advantages over the LinkBuds. Aside from spatial audio, their two biggest advantages are sound quality and the ability to automatically switch between any Apple devices on your iCloud account (essentially multipoint Bluetooth pairing for Apple users). That allows you to accept an incoming call on your iPhone while listening to audio on your Mac or iPad.
Also, a variety of lesser talked about features -- always-on Siri ("Hey Siri"), audio sharing with other Apple users, Live Listen that sort of turns your AirPods into hearing aids and more -- definitely give the AirPods a features advantage over the LinkBuds. Read our 21 AirPods tips and tricks to find out about all the AirPods' features you may be missing.
While the LinkBuds sound good for open earbuds, the AirPods 3 play a little louder and sound a little fuller, with slightly more bass. That extra fullness is a plus when I was walking New York streets filled with ambient noise that leaks into your ears because these, like the LinkBuds, are open buds that allow sound in.
Like AirPods Pro, the AirPods 3 are top-notch for making voice calls. Callers said they could hear me clearly even with a lot of background noise in the streets of New York. The only issue is that since they're open earbuds, they let sound in, so you may not be able to hear callers as well as they can hear you in noisier environments. The same is true for the LinkBuds, which offer surprisingly similar voice-calling performance to the AirPods 3.
Read our Apple AirPods 3 review.
$169 at Amazon $179 at Apple $169 at Best Buy
How to choose: Sony LinkBuds vs. AirPods 3
As noted, the LinkBuds and AirPods 3 are evenly matched, with each headphone edging out the other in certain specific areas. What it comes down to is your priorities. If you can't get a secure fit with the AirPods, you'll definitely want to lean toward the LinkBuds, particularly if you plan to use your buds for sporting activities such as running and biking.
The AirPods' Apple-only extras include spatial audio for movies and TV, always-on Siri and automatic switching between Apple devices so long as they're signed in to your iCloud account. If you're an Android user who can't take advantage of those features, the LinkBuds, with features such as Speak to Chat and Wide Area Tap will seem more feature-rich.
While both buds are excellent for voice calling with good background noise reduction, the AirPods offer better sound quality with a bit more dynamic sound and punchier bass. They just sound a little fuller than the LinkBuds.
In short, if you're an Apple user who can get a secure fit with the third-gen AirPods, they're the better choice over, which is why I rated them slightly higher than the LinkBuds. But Android users and those who can't quite get the AirPods 3 to stay in their ears as securely as they might like, the LinkBuds make for an excellent AirPods alternative.
Go for the Sony LinkBuds if:
Go for the AirPods 3 if:
In short, if you're an Apple user who can get a secure fit with the AirPods 3, they're the better choice, which is why I rated them slightly higher than the LinkBuds. But for Android users and those who can't quite get the third-gen AirPods to stay securely in their ears, the LinkBuds make for an excellent AirPods alternative.
CNET TVs, Streaming and Audio
Get CNET's comprehensive coverage of home entertainment tech delivered to your inbox.
AirPods 3$169 at AmazonHeadphonesSony Apple Notification on Notification off TV & Audio