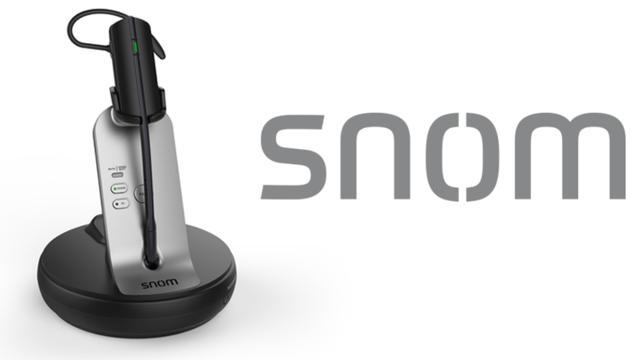 Part of the UC Today Snom Endpoint Buyer's Guide.
In the past, communication in the business space was very simple. Most companies gave their employees a standard desk phone, and that was it.
Now that the communication is evolving driven by trends like user experience, globalisation, remote working and collaboration, the average "endpoint" has become more complex. Aside from the basic desk phone, technology vendors are also investing in state-of-the-art accessories, headsets and more for their end-users.
Since 1996, German communications manufacturer Snom has produced cutting-edge VoIP and SIP technology for the small to mid-sized business space. Here are just some of the things that Snom offers to supplement and support your comms stack.
Features and Benefits of Snom Accessories (By Device)
Though Snom is best known for their VoIP phone systems, built on the Session Initiation Protocol standard, this German company has also branched out into various additional endpoint accessories over the years. Whether you're looking for a USB stick that can convert your desk phone into an instant conferencing solution or a wireless headset for comfort on-the-go, Snom has something for everyone. Accessories in the Snom portfolio include:
Sometimes, the most innovative devices in your business will be the most straightforward solutions. The Snom A230 DECT USB stick gives companies a small, and easy-to-use method of converting their Snom desk phones into a flexible conferencing device. Combined with a C52 SP speaker unit, the A230 USB provides instant conferencing features with no need for additional phone numbers, extra investment or a specialist IT team.
To use the Snom A230 DECT USB stick, all you need to do is connect the USB to your desk phone via its USB port, connect to the C52 SP expansion module, and start making conference calls. Features include:
Snom A170 DECT Headset
For teams that need compromise-free mobility and audio quality, the Snom A170 wireless headset is a dream come true. Lightweight and comfortable, the A170 headset comes with features like passive noise cancelling, a broadband loudspeaker, and three different design configuration options so you can wear your headset however you choose.
The Snom A170 headset is all about mobility. The device connects to your phone using DECT technology, with a maximum range of up to 25 metres. Employees can feel free to walk around the office at their leisure, without worrying about dropped calls or lost quality. Features include:
Snom A100D Headset
The Snom A100M/D headset, available in binaural or monaural design is a wired headset created to provide absolute comfort and excellent performance in any business. With an ergonomic lightweight design, you'll be able to wear the A100M/D headset all day without any discomfort. What's more, the wideband audio technology ensures that every conversation you have will be crystal clear.
A flexible boom and passive noise cancelling microphone support state-of-the-art voice quality, and there are various Quick Release adapters available with this headset too. Features include:
To support the Snom headset range, Snom also has a variety of Adapter cables designed for A100 M/D devices, including:
The ACUSB Adapter
The ACUSB adapter connects A100 M/D headsets with Snom phones via USB ports. Integrated buttons provide a simple way to manage calls, mute functions, and call volume. Features include:
The ACPJ Adapter
The ACPJ Adapter cable offers connectivity for the A100 M/D headset to any device featuring a 3.5mm jacks. This adapter is ideal for DECT devices created by Snom, and it's compatible with most mobile devices. The cable reaches up to 60 centimetres.
The ACPJ25 Adapter
The ACPJ25 adapter cable is a 60 cm adapter cable that connects Snom A100 M/D headsets to Snom SC devices with 2.5mm jacks. This cable is compatible with most mobile devices.
One of the reasons why headsets are growing more popular lately, is that they can offer more flexibility than most handsets. The Snom wireless headset adapter takes that freedom to the next level, by creating a secure bridge between VoIP telephones and the professional wireless headsets designed by Sennheiser, Plantronics, and Jabra. The EHS Wireless Headset Adapter uses an electronic hook switch to ensure you can answer all your calls within your wireless headset. Features include:
Snom's PA1 public address system allows companies from all backgrounds to expand their public announcement system with SIP-based communication standards. The PA1 from Snom is available for use in any sized application, thanks to it's 4-watt amplifier. There's also a microphone port available for two-way communication in the office. If you need additional reach in your PA system, you can also add multiple extra speakers to the PA1 too. Features include:
Target Market & Regional Availability
Snom's impressive range of headsets and accessories are available alongside the brand's portfolio of UC devices. Companies across the globe can use headsets, cables, and even a Snom PA device to extend and improve their communication stack. The Snom communication technology solutions are explicitly designed to support small to mid-sized companies, ranging all the way from home offices, to multi-floor businesses.
How to Buy & Pricing
Snom sells its wide variety of communication products through resellers located around the world. The price of your communication stack will depend on your choice of technology, as well as the reseller you work with. The average price for some of Snom's accessories at the time of writing is:
Finishing Thoughts
There are plenty of important components to consider in the average communication stack, beyond the IP phone or the conference phone. German engineering experts Snom deliver some incredible IP solutions, ranging all the way from mobile conference devices to portable DECT phones. However, end-users can also rely on Snom for some fantastic accessories too.
Whether you're looking for a comfortable, lightweight headset your employees can wear all day, or you're in need of a scalable PA system, Snom has something to offer almost every business environment.