In the flagship arena, the key players are Apple & Samsung. They go head to head every year with their premium flagships with gigantic specs. The iPhone 13 Pro has been here for quite some time. While the Samsung Galaxy S22 Ultra has launched globally in February. Today we are clashing Samsung Galaxy S22 Ultra vs iPhone 13 Pro to see which premium offering tops the chart.
Samsung Galaxy S22 Ultra vs iPhone 13 Pro Display & Design
In terms of design, the two devices are different from each other. Samsung Galaxy S22 Ultra boasts a glass sandwich design with a punch-hole cutout on the front. The camera module no longer sits on an island unlike on the previous S21 Ultra. Instead, it rises from the surface and offers you minimal camera bump. The design looks elegant and premium without a doubt with an S-Pen on the bottom housing. Also, the front and back get Gorilla Glass Victus Plus protection. While the aluminum frame in the middle is also an A+ grade according to Samsung.
On the other hand, iPhone inherited the same design language from its predecessor, iPhone 12 Pro. A notch on the front for housing Face ID and a triple camera on the back with the same module as of previous gen. The volume rockers and alert slider sit on the left side whereas the power key is placed on the left. The front and back are protected by Gorilla Glass plus ceramic shield. Plus, the middle frame is made up of surgical-grade stainless steel.
Coming on the display section, Samsung has implemented a 6.8″ Super AMOLED, 2nd Gen LTPO Panel with a 120Hz refresh rate. Pioneer in the display technology, Samsung has kept the peak brightness here at 1750 nits. With 500 PPI, the Quad HD+ display is arguably the best in class. Also, the screen can go as low as 1Hz for lower battery consumption.
Apple has its Super Retina XDR display with ProMotion (Fast Refresh Rate). The 6.1″ panel is also an AMOLED with a 120Hz refresh rate. But it relies on the 1st Gen LTPO technology that can go only as low as 10Hz. Nevertheless, the display is wonderful on the iPhone 13 Pro. The PPI is 450 over here and the display can go up to 1200 nits of max brightness for HDR.
Samsung Galaxy S22 Ultra vs iPhone 13 Pro Camera
Galaxy S22 Ultra features a quad camera setup with super cool capabilities. The main camera is an f/1.8 108MP one that can capture crisp pictures with an immense amount of detail. Meanwhile, the second one is a 50MP Ultrawide sensor having 120° FOV. Following the numbers are two 10 MP telephoto lenses. One telephoto can zoom 10x optically for no loss in image details. While the other one can zoom in to 3x for capturing portrait shots. The setup here is a strong one and can capture whooping 100x photos with a respectable amount of details. The S22 Ultra is a camera powerhouse.
It also has a new improved OIS and stabilization has gotten even stronger. The super steady mode can handle running shots like a pro. For the front camera, it houses a 40MP shooter which should be more than enough for capturing awesome selfies.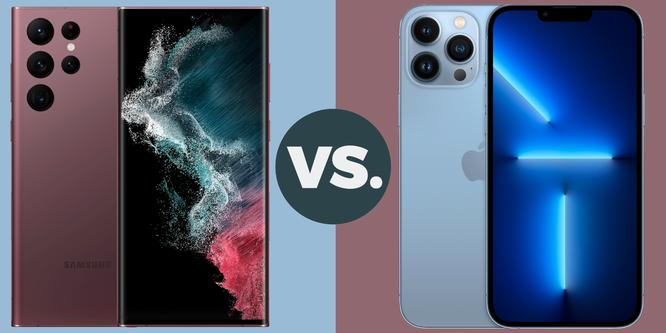 Well, iPhone 13 Pro also doesn't stand behind the on-camera performance. Consisting triple setup of 12MP main, 12MP ultrawide, and 12MP telephoto cameras, the performance is stellar here. Thanks to Apple's chipset, OS & hardware, there is ample consistency for all three cameras. Despite having a smaller resolution, the lenses here produce amazing quality photos and can give a tough competition against the S22 Ultra. There is no 100x zoom here though. For the front side, there is a 12MP camera plus a Face ID depth measuring sensor.
Apple has always been known for good cameras with good stabilization. The OIS comes into play and footage is well stabilized. However, the S22 ultra's new super steady mode outperforms iPhone 13 Pro's stabilization.
Samsung Galaxy S22 Ultra vs iPhone 13 Pro Performance
Here, the rivalry goes towards Android vs iPhone. Samsung has gone with a Snapdragon 8 Gen 1 chipset for all over except the European market this time. To note, the Nepalese market is also getting an SD variant for the first time. While the 4 nm-based Qualcomm silicon is manufactured by the company itself. It is an octa-core (1×3.00 GHz Cortex-X2 & 3×2.40 GHz Cortex-A710 & 4×1.70 GHz Cortex-A510) processor. The GPU is Adreno 730. There are some thermal management issues on the chip but proper optimization can counteract the heat.
Also, Samsung has thoroughly improved with their One UI 4.1 skin on the S22 Ultra. Build on top of Android 12, One UI 4.1 brings virtual RAM management, wallpaper-based color theme integration with Google Apps, etc. With a super horsepower and improvised skin, the S22 Ultra provides true flagship performance.
Meanwhile, Apple has its top-of-the-class Apple A15 Bionic Hexacore chipset. By performance and benchmarks, it still takes the lead in the market. The configuration for this silicon is Hexa-core (2×3.22 GHz Avalanche + 4xX.X GHz Blizzard). Meanwhile, the GPU is handled by Apple GPU (5 core Graphics).
The combination of iOs & A15 Bionic makes everything snappier on the iPhone 13 Pro. By far, iOS has been smoother than any Android skin to date. So having a mighty processor and iOS, iPhone 13 Pro takes the lead here. But that shouldn't mean, the S22 Ultra is weaker. It is also one of the best when it comes to power and performance.
Specs Comparison
Pricing
The premium phones come in premium price tags. In Nepal, Samsung Galaxy Ultra is available in two variants; 12/256GB at Rs.159,000 and 12/512GB at Rs.169,000. Whereas the price of the iPhone 13 Pro starts at Rs.174,990 for the 128GB variant and goes up to Rs.255,990 for the 1TB variant. It is already available across online and offline stores in Nepal.
Pre-order Samsung Galaxy S22 Ultra with Gifts
Verdict
Both of the phones are true flagship-level devices. The S22 Ultra comes with a powerful set of cameras whilst the iPhone 13 Pro maintains consistency and performance with its triple setup camera. Also, the quad setup is a well capable one on the Galaxy S22 Ultra. The 10X optical zoom, whopping 100x shots, amazing night mode, and super stabilization make it a titan of smartphones. Similarly, amazing portrait mode, superb video quality, dynamic range make iPhone 13 Pro a great competitor.
Do Read:- Apple iPhones Price in Nepal | Apple Mobiles Pricelist
For the performance and OS, it mostly depends on what kind of user you are. Those who love the fluidity and smoothness of an iOS would choose iPhone 13 Pro. Meanwhile, those wanting for customization, freedom, and user-friendly UI, Samsung Galaxy S22 Ultra is a very decent phone. Also, the S Pen is its Unique Selling Point. The latency of the new S Pen has much improved with just 2.8 ms. Taking down notes, drawing some doodles, listing things, the S Pen is more than enough. Also, this makes the Galaxy S22 Ultra, a Note series phone in disguise.
When it comes to displaying Samsung Galaxy S22 Ultra wins here with Dynamic 2X Super AMOLED panel with 2nd Gen LTPO technology. The iPhone 13 Pro's display is also a flagship-level one without a doubt. It's just that Samsung has become a pioneer in display making. Besides, that board of the devices are flagship levels and offer you the very best out of the expensive price tags they carry. Again it also depends on the personal preference of the user. After all, it's a battle of Android versus iPhone. The S22 Ultra is cheaper than Apple's iPhone 13 Pro.
Final Words
Ok, that was our take on Samsung Galaxy S22 Ultra vs iPhone 13 Pro. The Galaxy S22 Ultra has launched in Nepal and is available for prebooking from Feb 23rd. Are you excited about the Snapdragon version? And also tell us which one would you choose between Samsung Galaxy S22 Ultra and iPhone 13 Pro and why? Our comment section is always open for your opinions.
Also Read:- Samsung Mobile Price in Nepal | Detailed Specs
Exclusive Online Launch | Order Now
Rs. 24,499Buy Now
New Launch | 1 Year Brand Warranty
Rs. 22,999Buy Now
Free Shipping + 100 Rs. OFF + 1 year warranty
Rs. 4,799Buy Now
Follow us on Facebook, Twitter, and Viber to get the latest news, information about Ntc, Ncell, Smart Cell, and phones in Nepal.
report this ad