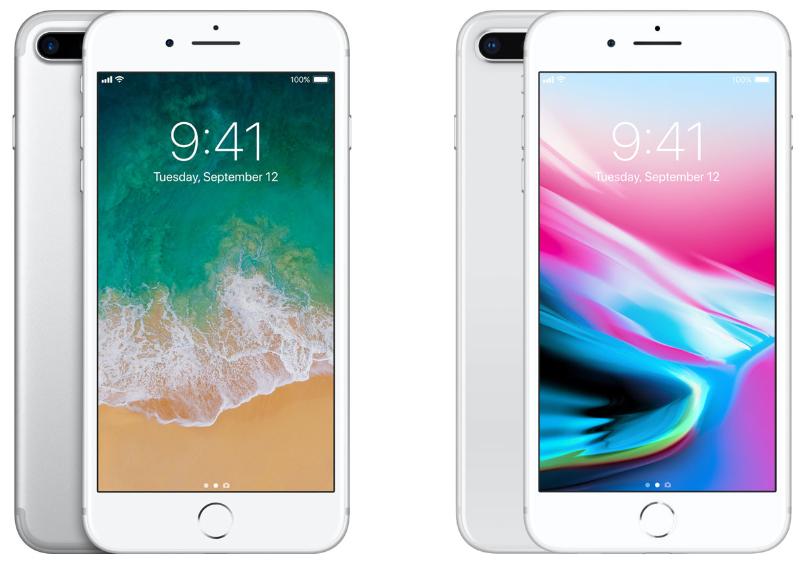 Apple's biggest new iPhone has arrived, but with an unfamiliar name. While the iPhone X has taken all the attention, Apple also launched the iPhone 8 and iPhone 8 Plus - subtle upgrades of the iPhone 7 and iPhone 7 Plus but without the expected 'S' moniker. So is the iPhone 8 Plus really a whole number better than its predecessor?
Tell help you decide, here are the biggest differences between the iPhone 8 Plus and the iPhone 7 Plus…
iPhone 7 Plus (left) vs iPhone 8 Plus (right) - the two smartphones look almost identical
Apple
Design & Size - Bigger And More Fragile
Thought the iPhone 7 Plus was too big for a 5.5-inch smartphone? Well the iPhone 8 Plus is slightly taller, wider, thicker and noticeably heavier:
The reason for this weight gain (which is also 17.5% heavier than the original iPhone 6 Plus design it is based on) is the return of glass. Not seen since the iPhone 4S in 2011, all Apple's new iPhones have glass backs rather than aluminium so they can support wireless charging (more in the Battery Life section).
If you don't care about wireless charging then the change is unlikely to be welcome, despite Apple claiming it is the toughest glass ever fitted to an iPhone. The bottom line is glass cracks, aluminium does not.
Glass backs add vulnerability and weight of the iPhone 8 and iPhone 8 Plus, but they do bring... [+] wireless charging
Apple
On the flipside the iPhone 8 Plus retains the other key durability features of the iPhone 7 Plus: iP67 water and dust resistance (allowing for full submersion in up to 1 metre of water for 30 minutes) and rigid Series 7000 Aluminium for its internal chassis. In addition the iPhone 8 Plus has 25% louder external stereo speakers.
Fans hoping the iPhone 8 Plus would see a return for the headphone jack and the inclusion of universal USB-C charging will be disappointed though. The latter is still absent and Lighting remains Apple's (proprietary) port of choice - it was always going to be so.
iPhone 8 and iPhone 8 Plus are IP67 dust and water resistant just like the iPhone 7 and iPhone 7... [+] Plus
Apple
When it comes to colour options, the iPhone 8 Plus drops the iPhone 7 Plus' rose gold and jet Black colour options in favour of Gold and Black (glass is already shiny). Space Gray also returns but (Product)Red drops out for now.
All in all there really is very little design improvement in the iPhone 8 Plus over the iPhone 7 Plus (an iPhone X scale overhaul this is not) and the glass back will be polarising.
Displays - Old Dog, New Tricks
Apple finally embraced OLED with the iPhone X (at a price), but the iPhone 8 Plus sticks with both the LCD panel of its predecessor and a matching resolution:
Surprisingly Apple has not made its customary contrast ratio improvements this year either with the iPhone 8 Plus and iPhone 7 Plus sharing the same 1300:1 rating, which is lower than the 1400:1 of the iPhone 8 and iPhone 7. That said there are two notable upgrades.
iPhone 8 and iPhone 8 Plus have True Tone displays for color accuracy in any lighting condition
Apple
Firstly the iPhone 8 Plus adds support for 'True Tone' technology which Apple first launched with the iPad Pro range. True Tone balances the display against environmental lighting so colours are always accurate at all times. Secondly there's HDR support for both Dolby Vision and HDR10 standards which is great given HDR content is flooding Netflix, Amazon Video and iTunes.
Read more - iPhone X Vs iPhone 8: What's The Difference?
Performance - The Big Boost
Where the iPhone 8 Plus really shines against the iPhone 7 Plus, however, is performance.
Apple claims the A11 chip delivers 70% faster multitasking (great given users swap between apps constantly), 30% faster graphics and 25% faster peak CPU performance. In addition Apple says the iPhone 8 Plus is 70% faster than the iPhone 7 Plus in low power mode.
Apple's A11 Bionic is the most powerful smartphone chipset even made and the iPhone 8, iPhone 8 Plus... [+] and iPhone X (pictured) all get it
Apple
These are serious upgrades, especially considering the A10 chipset in the year old iPhone 7 Plus is still faster than any Android rival today. Of course the counterpoint is whether you need such an upgrade, but nevertheless it is extremely impressive.
Cameras - Physically Similar, Computationally Different
Look at the iPhone 8 Plus camera specifications and you won't be impressed. Like the iPhone 7 Plus it retains the same 12 megapixel dual cameras on the back with an f/1.8 wide-angle sensor and slow f/2.8 telephoto sensor (for 2x optical zoom) plus a 7 megapixel, f/2.2 sensor on the front.
And yet you should expect a significant upgrade in photo and video quality.
iPhone 8 Plus cameras promise a significant upgrade in quality through better image processing
Apple
Why? Because smartphone photography is increasingly about the quality of computational image processing rather than the physical hardware. Google's Pixels took the smartphone camera crown in 2016 (and arguably still hold them in 2017) despite inferior hardware thanks to superior image processing.
And here is where the A11 Bionic steps in. Apple's new chip is the first to have a dedicated Apple-designed ISP (Image Signal Processor) built-in to greatly improve pixel processing, deliver faster low-light autofocus and better noise reduction.
Apple's iPhone 8 Plus image samples make bold promises
Apple
Apple claims the iPhone 8 Plus camera will be a major step up from the iPhone 7 Plus and early signs are encouraging. Whether it does enough to catch up with rivals or keep pace with the iPhone X (which has a faster, OIS telephoto lens) remains to be seen.
Read more - iPhone 8 Vs iPhone 8 Plus: What's The Difference?
Battery Life And Charging - Stamina Stagnation, Charging Revelation
Battery life on Apple's iPhone Plus range has always been superb so it is not the end of the world that the iPhone 8 Plus delivers no tangible upgrade on the staying power of the iPhone 7 Plus. Even if it is a surprise given the greater efficiency of the A11 (hint: Apple reduced the iPhone 8's battery capacity).
Then again what the iPhone 8 Plus does do is dramatically change how it charges. For starters Apple has finally brought fast charging to the iPhone range, delivering up to 50% charge in just 30 minutes. On top of this the controversial glass back enables Apple to support Qi-wireless charging for the first time.
iPhone 7 Plus Vs iPhone 8 Plus battery life shows no improvement, but there are new charging options
Apple
Unfortunately, however, there are significant caveats to both of these upgrades. With wired charging Apple does not include a fast charger in the box and its optional quick chargers are expensive and don't include a cable (which is a different standard to the bundled one). Meanwhile wireless charging only works at 5W when Qi typically works at 7W and even has a fast 15W standard supported by rivals such as Samsung.
I suspect Apple's upcoming 'AirPower' wireless standard will improve power delivery when it arrives in 2018, but this is likely to be expensive and incompatible with Qi's existing 15W standard.
Storage And Price - Better Base, Higher Costs
Typically where Apple gives it also takes, so 2017 sees the iPhone 8 Plus double its entry level storage (from 32GB to 64GB) but increase its starting price and lose 2016's oh-so-popular 128GB ($869) sweet spot:
Also making things interesting is Apple's $100 reduction of the iPhone 7 Plus which now comes in just two storage levels for a more budget friendly $669 and $769. The problem is their inferior storage options mean it is just a $30 difference between the 64GB iPhone 8 Plus and 128GB iPhone 7 Plus - a tricky choice for some.
Personally I'd take the newer model. The iPhone 8 Plus will be supported for a year longer, it's faster, has a better camera and marginally better screen while its fast and wireless charging are useful additions. Even if the former is absurdly priced and the latter won't blossom until AirPower arrives.
Tip: you can save on storage space by using Google Photos' free unlimited storage for photos (up to 16MP) and video (up to 1080p).
Read more - iPhone 8 Vs iPhone 7: What's The Difference?
iPhone 8 Plus (middle) is clearly not as exciting as the iPhone X, but it still deserves a lot of... [+] respect
Apple
Bottom Line
There's no hiding from the fact the iPhone 8 Plus is a dull upgrade.
The core design is well past its sell by date, it's far too big and heavy for its screen size and it has gotten more expensive while losing its popular mid tier storage option. Given the efficiencies of the A11 chipset, there was also plenty of scope for Apple to extend battery life but it reduced battery capacity instead.
Yes, this is an 'iPhone 7S Plus' in all but name.
And yet technologically there's a lot to admire about the iPhone 8 Plus. The A11 chipset is a masterpiece and is likely to beat every Android rival well into 2019, the cameras have improved and there are finally decent charging options (even if their pricing is exploitative).
Furthermore with the iPhone X priced much higher and unavailable for months there's something reassuring about the predictableness of the iPhone 8 Plus. After four generations it represents Apple's perfection of this form factor in what is likely its last outing with a 6.46-inch iPhone X Plus expected to replace it in 2018.
As such, while there's little to excite and it's not an obvious update for iPhone 7 Plus owners, there remains much to respect about the iPhone 8 Plus.
___
Follow Gordon on Twitter, Facebook and Google+
More On Forbes
Apple iOS 11 Has 25 Great Secret Features
iPhone X Vs iPhone 8: What's The Difference?
iPhone 8 Vs iPhone 7: What's The Difference?
iPhone 8 Vs iPhone 8 Plus: What's The Difference?